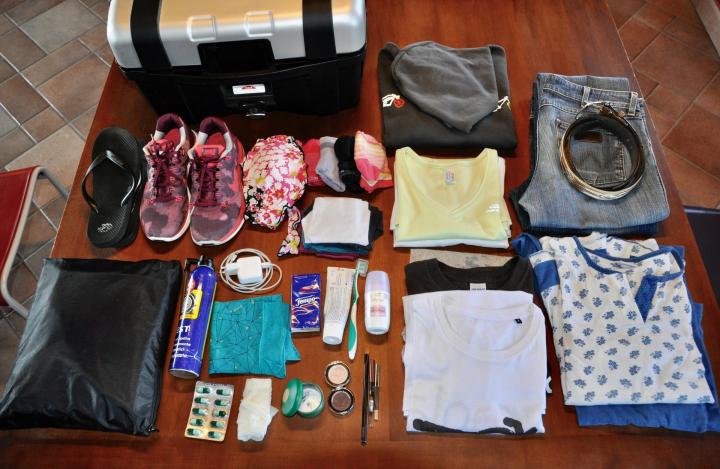 5 tips to optimize your motorbike luggage space
19 Apr 22
"Here we are, the long awaited motorcycle trip is approaching! It's time to start to pack!"

… after this common thought, there will generally be 3 different types of travellers: the expert and meticulous motorcyclist that has had everything ready for weeks up to the finest details, the adventurous one that will stuff the bags in five minutes with the first clothes he finds in the wardrobe, and the newbie that has no idea where to start to pack for his first trip.
If you recognize yourself in this last type of motorcyclist, read on because we can definitely help you start your trip with peace of mind, without that dreaded feeling of having forgotten something useful back home.
If instead you are one of the other two types, well, read on anyway, your bags are probably already ready to go and you have some time to do some reading :-)
So, here they are, my 5 tips to optimize your motorbike luggage space
1. Start in advance
For my trips, to be on the safe side I start some weeks in advance: I stick a piece of paper on the fridge door and I note there every time I think about something that could be useful to bring with me. A week before I have it ready with the clothes I want to bring along, so that I can wash them and press them (well, that's probably futile, since they are going into a saddle bag, but still..)
2. Choose good technical clothing
You are about to leave for an adventurous trip, you will drive all day, so the most important item of clothing will be your motorcycle suit and a t-shirt. I especially recommend the microfiber ones, because they take very little space when folded, and also because you can easily wash them in the evening and have them dry in the morning, so you won't need many of them. For a five day trip, three of those will be enough (including the one you will be wearing initially).
3. It's a motorbike, not a station wagon
So, now it's the day before leaving, and it's time to fill the travel bags. For the evenings you will not need more than one or two set of "normal" clothes: you won't be in those for too long, and we are not going for a fancy fashion show, so we won't judge you if you wear the same every evening! :) Also, I bet you have, many times, unpacked clean clothes after coming home from a trip: it means they were not needed and they could have stayed home!
Remember that you are leaving on a motorcycle, not a station wagon! So, your whole wardrobe won't fit in it!
4. Use a good packing list
If you leave for a weekend, or if join us for one of our 3 days tours, this is the list of items you will need
1 pair of trousers/jeans

1 t-shirt + 1 long sleeved t-shirt for the evenings

2 microfiber t-shirts for the days

1 warm sweater for the evening (on the mountains it gets chilly in summer too)

1 thin fleece sweater to be worn under your motorbike leathers

2 underwear

2 pairs of socks

pajamas

belt

swimming suit

slippers

1 pair of evening shoes

mobile charger

1 tyre sealant spray (we hope not to need it, but..)

toiletries: toothbrush, toothpaste, small container for face cream, some emergency meds. You won't need shampoo or shower gel because the hotels will provide them. Some necessary makeup for us women.

Plastic bags for your laundry

rain gear
If you join us for one of our 5 days tours, you should add to the list:
1 pair of trousers/jeans

1 t-shirt + 1 long sleeved t-shirt for the evenings

2 pairs of socks

2 pairs of underwear
5. A place for everything, everything in its place
Now you have to fit all that in your motorbike luggage: travel bags or rigid cases.
Let's start using the space inside the shoes, stuffing them with for example the socks, the mobile charger or the tyre sealant spray.
If you are using soft bags, I recommend putting everything into a big plastic bag first so that your have dry clothes when we arrive at the hotel will even in case of rain (soft bags' rain protection does not always work 100%). If you have a rigid case, this should not be necessary, provided it is properly sealed.
Put the most bulky items on the bottom, like your trousers or the heavy sweater, and only after that pack your t-shirts. Use the smaller items to stuff any available space or hole.
Keep your rain gear somewhere you can easily reach without having to unpack in a downpour! :)
If you are using side bags, remember to pack them evenly, your driving will suffer otherwise.
If you still have some space left you might add something, but I recommend leaving some room for some possible shopping! ;)
Now you just have to load all your motorbike luggage on the bike, and enjoy the last moment before the trip starts!

Good trips!