6 Day Lake Orta and Langhe All Piemonte Minibus Tour
A week of adventure, an authentic journey for real travelers: the Sacra di San Michele, Lake Orta, the Langhe, Monferrato, Ivrea and the Canavese, the Oasi Zegna, the Forte di Bard fortress in the Aosta Valley
The tour we prepared is an authentic journey in our native land. It includes lakes and glaciers, mountains and abbeys, history and legends, hills and vineyards, surprises and the people, real people, that we will meet.
The first three days will be dedicated to the northern part of Piedmont, with its huge mountains, its lakes left by the retreating glaciers, the churches, unexpected Roman remains and the immense views: Lake Orta with its intense and sparkling blue, the romantic Piazza Motta and the island of San Giulio, the Panoramica Zegna up to Bielmonte, the city of Ivrea, the Fort of Bard at the entrance to the Aosta Valley, the Sacra di San Michele, majestic symbol of Piedmont .
We will descend towards the South, where the profiles of the hills are now gentle, sometimes steep, all covered with neat vineyards, or woods and hazelnut trees. It will be the turn of the Monferrato with the splendid Santa Maria di Vezzolano abbey and the Piedmontese cooking lesson, the incredible Wine Cathedrals of Canelli, the beautiful Roccaverano and the ancient Acqui Terme, with its characteristic fountain, 'the boiling', which flows hot water in the city center.
We will learn to make to make homemade piedmontese pasta and then eat it together, we will visit the prestigious wine cathedrals in Canelli, and we will taste the wine of small family-run wineries where we will stop for snacks.
A trip for a small group of up to 8 travelers, as in a group of friends, in the land of Pavese and Fenoglio, Cavour and Olivetti, of tenacious peasants and mountaineers.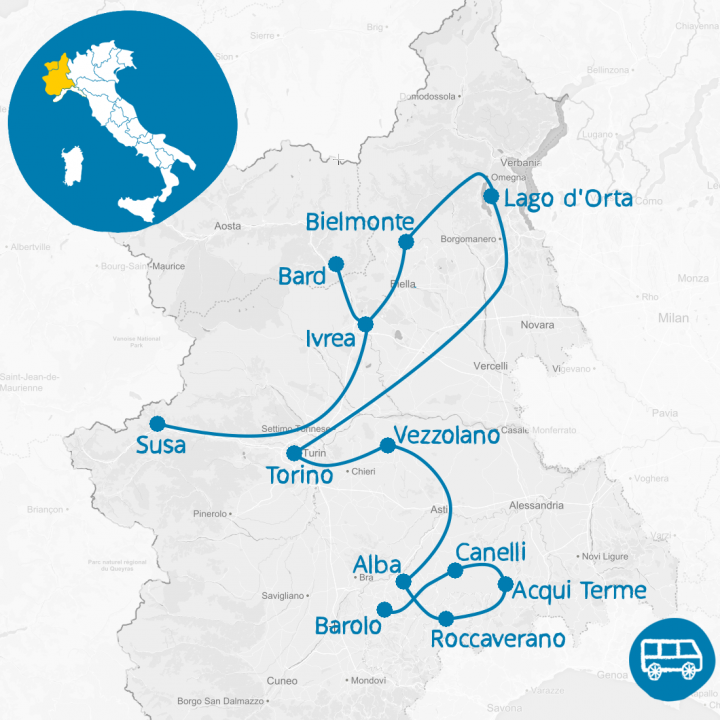 What's included
Meals
5 breakfasts
Cooking lesson with lunch
Piedmontese 'merenda sinoira' with wine tasting
Transport
Transportation for 6 days on our brand new, air conditioned and free wi-fi equipped 9 seats minibus
Accommodation
5 night accommodation in B&Bs in double rooms, ensuite bathroom, breakfast included (Single room surcharge: 125 euros total)
Activities
Visit to a wine producer, with wine tasting and typical Piedmontese 'merenda sinoira'
Visit to Lake Orta
Tour of the Panoramica Zegna
Visit of Ivrea
Visit to Bard Fort and the Museo delle Alpi
Entrance to the S.Antonio of Ranverso Abbey
Visit of the Roman Area in Susa
Entrance to the Sacra of Saint Michele
Visit of the Santa Maria di Vezzolano abbey
Cooking lesson with lunch
Visit of Roccaverano, Bramante cloister and Tower
Visit to the hot spring fountain in Acqui Terme
Visit to the "Wine Cathedrals" in Canelli with wine tasting
Visit to the Barolo Chapel
Goat cheese tasting at the farm
Visit by minibus to the most iconic villages in the Langhe region