5 days cycling along the Piedmontese stretch of the VENTO cycling path from Turin to Valenza, with luggage transport service
From the center of splendid Turin following the river Po, to the irrigation canals, to the rice fields, a real journey on two wheels on the ready sections of the future Venice-Turin cycle route
The Po is the longest river in Italy. It is born from Monviso and crosses all of northern Italy, from West to East. Because of its geographical position, its length, its basin and the historical, social and economic events that have taken place around it from ancient times to the present day, the Po is recognized as the most important Italian river.  
Cycling enthusiasts know that in recent years there has been a lot of buzz and interest around VenTo, a project for the construction of a cycle path that will connect Venice and Torino (hence the name). This has been talked about for around 10 years, and in the next 3-5 years this project will be completed. But already today, if you want, you can ride for many stretches along our river, and In this 5-day tour we will travel the stretch from Turin to Valenza.
We will cross natural parks, long stretches of countryside, rice fields, meeting villages and farms, on a tour suitable for anyone who wants to slow down, enjoy nature and the pleasure of going 'in girùla'.
Total length: 150 km, difference in altitude 500 m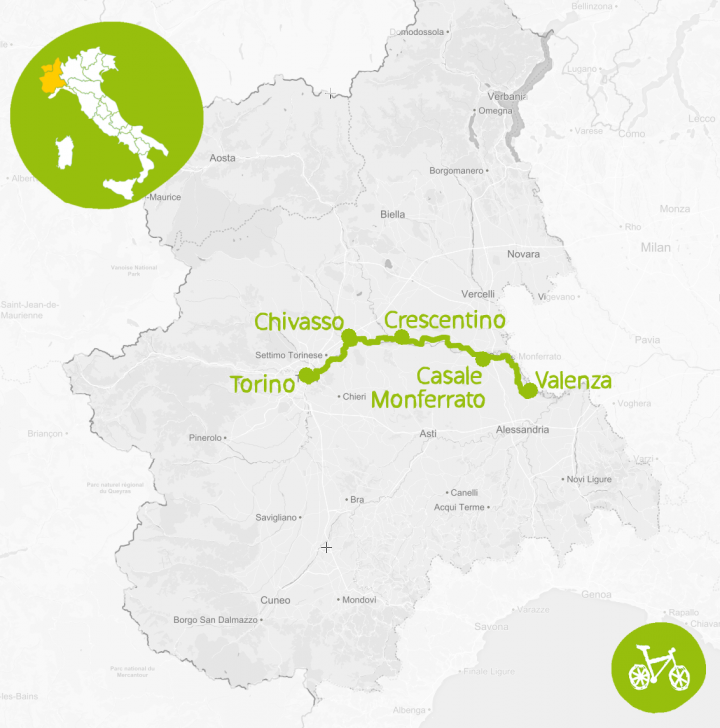 difficulty level:

Easy

Suitable for everyone, you only need to know how to ride a bike and to want to be on the saddle for the day!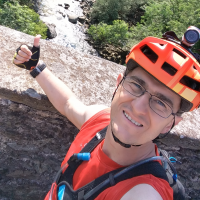 Marco
Marco is the head of our biking tours. Master motorbike traveller, he's been everywhere in Europe in the last 16 years, he loves heavy metal music, eating jam directly from the jar with a spoon, living in the country and solving a Rubik's cube in less than 50 seconds. He's got super brains, he has a solution for everything but his stinky socks!
Never without: a Rubik's cube
Favourite quote: "It could be worse... It could be raining!"
For this trip you do not need a bike that is particularly performing or with great technical characteristics. 
A touring, trekking, or gravel bike, or even a front suspension mountain bike will be just fine. Even a trekking or mountain electric bike will be perfect for this tour.
If you want you can rent a bike on an e-bike from us for this trip.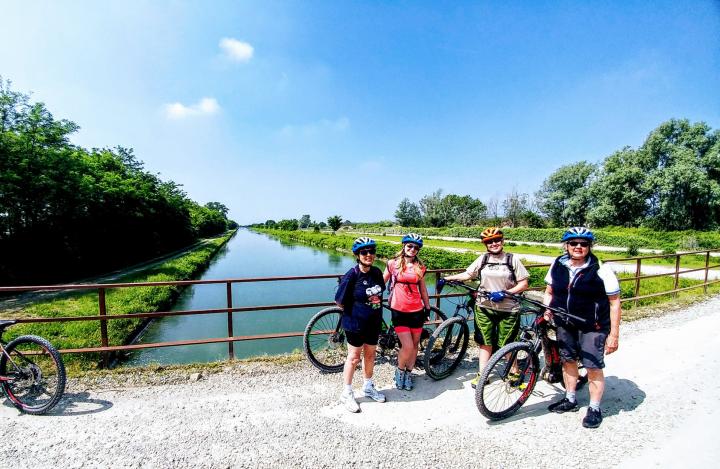 The tour starts from Turin, to the Gran Madre (Church of the Great Mother of God) in the city center, at 10 in the morning.
If you arrive by train the area is easily accessible, if instead you plan to come by car please consider that parking in the area is not easy, so we could instead meet outside the city, and reach the meeting point easily together with our minibus. 
At the end of the trip the Minibus will take you back to Turin (to the railway station, or to the Gran Madre church, or wherever you left your car).
To discuss organizational details or to book an additional night in Turin before or after the trip, you can contact Paola (+39 370 3506333 or [email protected]) or by chat directly on this page
We want you to savour the best of Italian hospitality, and we are not talking about fake-luxury hotels that all look the same. We will take you to places with character, authentic little B&Bs where you will sleep well and you will taste home made pies for breakfast, mountain lodges with stunning views, or particularly interesting hotels with a story to tell.
All rooms will have private bathrooms, and breakfast is always included.
We will choose for every departure the best solution considering the season and our guests' needs, and we'll send you the complete information via email before the start of the tour.
For example, one of our favourite places is La Ida Bed & Breakfast in Villareggia, our hometown, where our friend Sara, an architect and a painter, welcomes her guests with authentic kindness.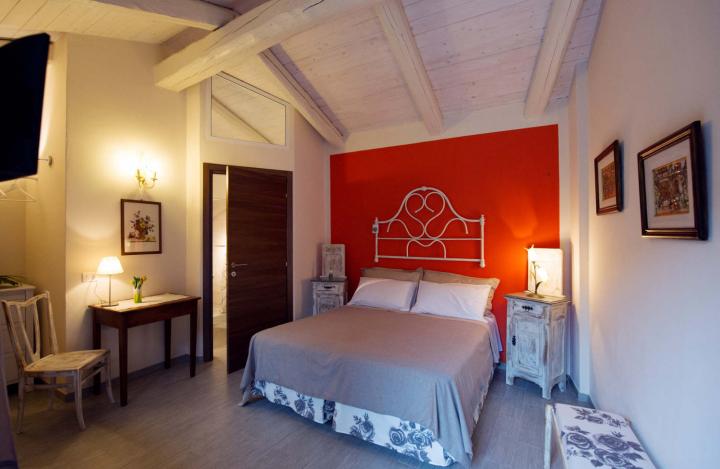 In our travels you will find solo travelers, couples, or pairs of friends, and in a small group of eight it's easy to become friends straight away. This tour is perfect for those that traveling alone but don't want to be on their own for the whole trip. You're independent and you can choose if and when to share meals and your free time with the group.
Our travelers are people who know how to travel, in fact they arrive independently to the place of the appointment, mainly from all over Italy (but not only) and who choose to take a trip with us to learn differently about places, people, flavors and traditions. We are proud to say that our travelers are the best part of our trips!
Solo travellers are always welcome in our tours, and if you feel like sharing a double of triple room with other members of the group we will send you an e-mail after your reservation and you will be able to tell us about your preferences (for example, if you are a girl and you would like to share a room with girls only etc). You will not pay any surcharge.
If you prefer, you can book a single room for a fee.
If there are no other solo travellers in your tour or if there is no opportunity to satisfy your preferences, your single room will be offered by us at no extra charge.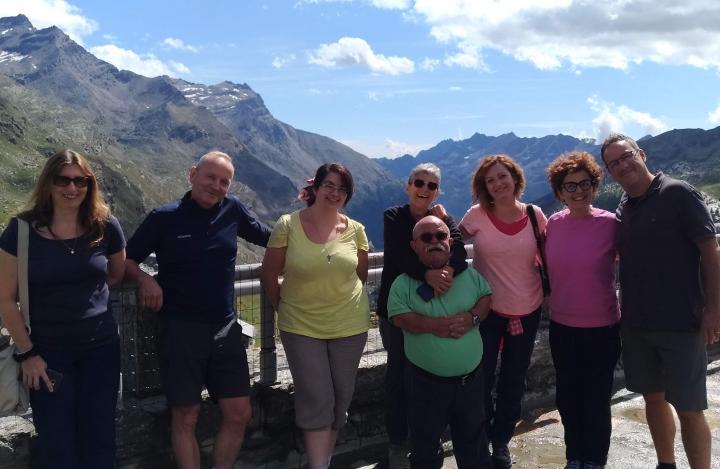 All our tours are directly made by us, Giroola Srl, via Amorosa 3, 10030 Villareggia (TO) (P.iva 11671600010, Scia 19022017-1520 Suap 9007)
During the tour you'll be covered by our Civil Responsibility Assurance (Reale Mutua Assicurazioni, via Corte d'Appello 1, 10122 Torino, nr.2007/03/2276452).  
We adhere to the Guarantee Fund (art.50 Dlgs 23.05.2011 n.79) which can be used by all travellers provided they have a contract in case of bankruptcy or insolvency for the refunding of the price paid. (Fondo Garanzia Viaggi Srl, via Nazionale 60, 00184 Roma, certificate n. A/146.1485/5/2017).
Booking Policy, from the General Terms and Condition for the Sale of Tour Packages:
3) RESERVATIONS
Acceptance of reservations by Giroola Srl is subject to availability. Reservations will be considered final following confirmation by Giroola Srl,  even via e-mail or fax, to the client.
Indications relative to the tour package not contained in the contract documents, brochures or other forms of written communication, will be supplied in time by Giroola Srl prior to the initial starting date in compliance with its duties as envisaged by Legislative . decree n. 79/2011.
4) PAYMENT
Upon booking, a registration fee and a deposit of 25% of the total amount is required. Full payment is due 30 days prior to departure. For reservations made within 30 days of departure, full payment is due upon booking. Lack of payment of the abovementioned sums on the dates established constitutes grounds for cancellation of reservations such as to determine, on the part of Giroola Srl, the right to terminate the contract.
5) TRANSFER OF CONTRACT
The client renouncing the contract may be substituted by another person provided that:
a) Giroola Srl be given written notice at least 4 weekdays prior to the date of departure, together with the necessary personal data of the transferee;
b) The transferee be able to satisfy all the conditions for the fruition of the service ( ex article 10 of Legislative decree n.111/95) and in particular the requisites relative to passports, visas, health certificates;
c) The transferee refund Giroola Srl for all expenses incurred for the transfer of the contract for the sum specified before the transfer.
Moreover, the transferor and the transferee are both accountable for the payment in full of the tour package price as well as for the sum as per item (c) of the present article.
As far as certain types of services are concerned, third party suppliers have the right to refuse the substitution of the transferee, even if effected within the time limit specified as per item (a) of the present article. Giroola Srl will therefore not be held responsible for the eventual non-acceptance of the substitution on behalf of third parties. This non-acceptance shall be notified in good time by Giroola Srl to the parties involved before departure.
6) WITHDRAWAL
In the event of withdrawing from the tour package contract, the client is, in any case, liable for the payment of the tour package price. If withdrawal takes place for reasons beyond those envisaged in article 7 of the present General Terms, the client shall pay, in compliance with ex article 1373, paragraph III, Italian Civil Code, cancellation penalties as specified below:
10% of the tour package price within 30 days prior to departure
30% of the tour package price from 29 to 18 days prior to departure
50% of the tour package price from 17 to 10 days prior to departure
75% of the tour package price from 9 to 3 weekdays prior to departure
100% of the tour package price beyond these terms.
7) WITHDRAWAL OF CLIENT WITHOUT PENALTY
The client may withdraw from the contract, without incurring any penalty, in the following circumstances:
a significant change of one or more elements of the contract which can be objectively considered as fundamental for the fruition of the tour package in its entirety and proposed by Giroola Srl.
after the conclusion of the contract itself but prior to departure and not accepted by the client.
In the abovementioned circumstances, the client is entitled to the following options:
the fruition of an alternative tour package, with no increase in price or with the restitution of the excess in price, if the second tour package costs less than the first;
the restitution of any sum corresponded as partial payment. Said restitution must be made within seven weekdays from receiving the request for reimbursement.
The client must communicate the decision (to accept the change or to withdraw) within two weekdays from receiving notice of the price increase or change. In the absence of specific notice within the said term, the proposal made by Giroola Srl will be considered accepted. The client who decides to withdraw from the contract before departure for circumstances beyond those listed above shall pay, after deducting the account paid as per article 4, the penalty indicated in article 6.
8) TOUR VARIATIONS
Variations to the tour, requested by the client, after the confirmation of booking, could involve processing expenses for Giroola Srl and at times penalties charged by suppliers. If so, the customer will be charged. Partial withdrawal of some of the travellers under the same contract and the resulting decrease in number of tour members is to be considered partial cancellation and is consequently regulated as stated in article 6.
As specified in our General Conditions of Sale of tourist packages, when you travel with Giroola you are covered by our Civil Liability Insurance. For all that could happen and that was due to our negligence or error, we have signed a policy (Reale Mutua Assicurazioni, nr.2007 / 03/2276452).
There are other insurance policies that we recommend and for which we have chosen to work with Allianz Global Assistance, whose Globy range seems to us to be the most suitable for our travelers:
TRAVEL CANCELLATION - Our 8-person trips are often full months before the date of travel, and even if our cancellation policy is actually much more flexible than expressed in our Booking Policy (our travelers can attest to this, we are very available to move the trip in case of unexpected even the last minute), where other facilities are involved (hotels, rentals, etc) some expenses are not really refundable, and therefore a good trip cancellation insurance becomes a valuable ally. 
HEALTH and ASSISTANCE
We at Giroola are an agency of the Globy network of Allianz Global Assistance, and we can therefore provide you with all the information, make estimates and issue the policies directly with the booking.
For any information our Paola is at your disposal at the phone number +39 370 3506333, at the address [email protected] or in the chat directly on this page.
What's included
Transport
Luggage transport service at each stage
Transportation from Valenza to Turin at the end of the tour (or train station or other meeting point)
Accommodation
4 night accommodation in B&Bs in double rooms, ensuite bathroom, breakfast included (single room supplement 100 euros for the whole trip, if required)
Activities
Accompaniment by bike and assistance for 5 days
Minibus assistance in case of emergencies
A complete tour of Sardinia between the hairpin bends overlooking the sea, the Mediterranean maquis, the sensational cuisine, the history and traditions of an island unique in the world
Alpine Ibex, glaciers and splendid valleys in the First National Park of Italy, based in Aosta in a hotel and a night of authentic hut experience
Intermediate
A real journey to discover alpine villages, high mountain pastures and pleasant paths with views of the Matterhorn, without the strain of heavy backpacks
Intermediate