3 Day Glacier Ridge Mountain Bike Trail
A weekend full of breathtaking views on the path of an ancient glacier
This is a fascinating story, that comes from the quaternary ice age. Here everything was frost and snow, the implacable force of glaciers pushing debris while expanding, high hills accumulating at the borders of the immense ice sea.
The Balteo glacier left us, as a gift, a beautiful morenic hill, a natural amphitheater of small peaks overlooking the valley, and several beautiful lakes.
It is a land of fairy tales and legends: you will hear about the Queen Ypa, beautiful and fierce, who ordered to cut the hill to transform the big lake left by the glacier into a fertile valley, someone says to punish her slave lover that died in the process.
This is where we will spend a whole weekend riding our mountain bikes: we will start with a fun downhill leg from Andrate to Villareggia, the home of Giroola, to form our group and learn to ride together, ending our day with a visit to a winery with food and wine tasting.
Then we will start climbing towards Brosso in 2 days of pleasant trails: we will meet little churches on the hills, go deep into green forests, find little treasures in small villages. In two words: have fun.
Included in the tour price you will have 3 days of incredible trails, accommodation, lunches, dinners, breakfasts, assistance and the winery visit. Great value!
Km totali:  130 / 2.500m d+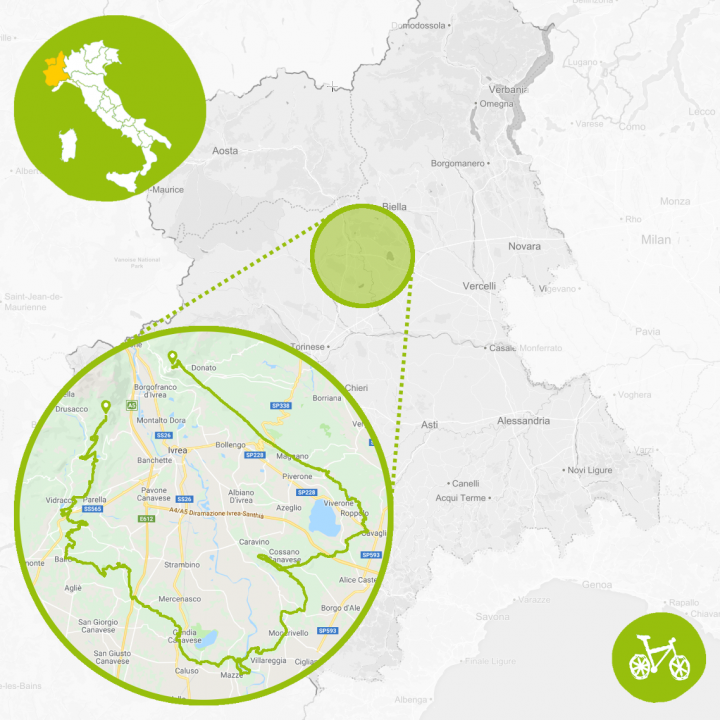 difficulty level:

Medium challenging

There are many stretches on unsettled terrain, both uphill and down hill (trails and unpaved roads with holes, loose stones, roots), suitable to riders with some experience of these types of trails done on a mountain bike.
What's included
Meals
3 breakfasts
3 lunches (lunchboxes filled with typical products to eat on the go during the day)
2 dinners
and some surprises!
Transport
Luggage transportation, transfert to and back from the trails.
3 Day assistance by mountain bike
Minivan
Accommodation
2 Nights in cozy B&Bs in double room (single room supplement: 50 Euros total)
Activities
3 days of mountain bike trails
Winery visit with apericena and wine tasting
Technical Giroola T-shirt
Glacier, bike parks and plenty of descents on an incredible journey of pure mountain
Challenging
The mountain at full throttle in a corner of Occitania between Piedmont and France
Challenging
Cycling in nature on trails around the lake and in the mountains
Medium challenging
Reviews
5
Trails and Mountain Biking in Serra Morenica
Excellent organization, great trails and very nice people! We have combined sport with oenology ... or oenology with sport? ... I do not remember! Pure fun weekend with Marco who was a leprot! (automatic translation by Google)