2 Days Mountain biking, sports tour to Lake Orta
Cycling in nature on trails around the lake and in the mountains
Imagine a lake surrounded by mountains, or to be on a mountain with a carpet of clouds at your feet. On this tour you will meet all this and more.
It starts with a day of exploration of Lake Orta: a path that draws a ring around the water, with ups and downs, surrounded by green forests. We will go towards mount Mottarone, from where you can admire the Lake Orta from the highest point,
The tour consists of two days of mountain biking, with luggage transfer and assistance of our minibus, dinner, lunches, accommodation and breakfast are included in the price, as well as assistance on the trails from Marco for the complete trip.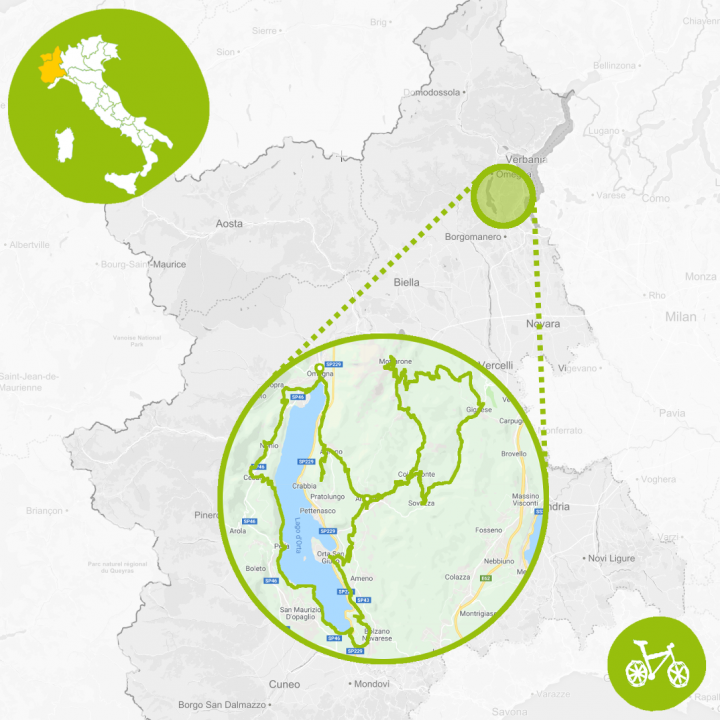 difficulty level:

Medium challenging

There are many stretches on unsettled terrain, both uphill and down hill (trails and unpaved roads with holes, loose stones, roots), suitable to riders with some experience of these types of trails done on a mountain bike.
You don't need to be a pro to enjoy mountain biking with us. The idea is to share a great weekend of stunning views, sport efforts and good food, Marco will be there to help and we will not approach dangerous trails.
However, it is important to auto-evaluate your physical and technical skills, to be sure that you will really enjoy the tour.
This tour is conceived for mountain bikers with a medium level of technical / physical preparation.
You must be trained enough to deal with distances of 50-60 kms a day and 1.000-1.300 meters of elevation gain.
Mastery of the bike on mountain single trails, S1 difficulty (smaller obstacles such as flat roots and small stones, surface not always firm, up to 40% gradient, generally ridden while standing), with some S2 sections (larger roots and stones, loose surface, narrow turns, steps, up to 70% gradient)
Sometimes, for short sections, it may be necessary to push / carry the bike over your shoulder.
For more information about the difficulty scale, check out this blog article by Marco: Our guide to mountain bike trails difficulty ratings.
If you want, Marco is available to discuss your personal evaluation via phone, Skype or Whatsapp.  Send and email to [email protected] and agree a time with him.
To help you minimise the effort, you can also decide to ride an e-bike provided by us.
You can bring your own bike
You can ride our tours with your own MTB. This is the bike you know perfectly, your faithful adventure buddy.
We recommend a full-suspended AllMountain MTB (>120mm suspension) or an Enduro MTB. (For any questions you can contact us directly).
Don't forget that this is a bikepacking tour, so you will need appropriate gear, and a helmet, of course.
Consider that there will likely be extra charges for bulky luggage if you decide to transport your MTB by plane, and a special bag is normally needed. If you want more information on how to get here with your own bike, check this article on our blog: How to reach Torino with your own bike.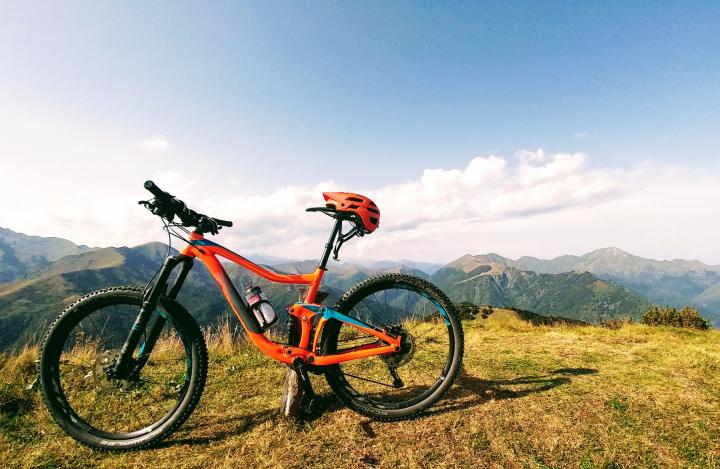 You can ride one of our brand new mountain bikes
Choosing the right mountain bike is a tough decision. You would need at least four (or five, or six?) bikes to cover all possible needs.
We chose for our tours an all mountain MTB,  efficient and versatile. It can easily and efficiently go up and downhill, and you will be free to have fun, to ride and approach new trails.
Alluminium frame with Maestro Suspension system
27.5'' wheels
150mm front fork
140mm rear shock absorber
2x9 speed shifting
2x180mm hydraulic disc brakes
Our mountain bikes are normally equipped with flat pedals. If you prefer, however, we can swap them for your own SPD pedals (remember to bring them with you).
For this whole tour, the rental fee is 119 Euros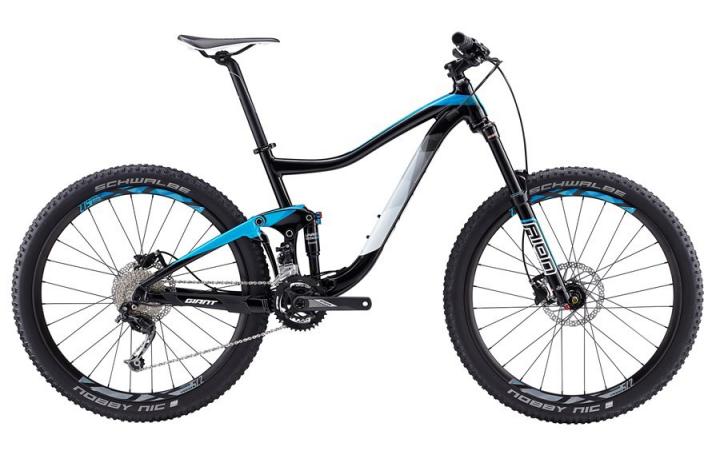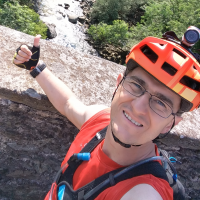 Marco
Marco is the head of our biking tours. Master motorbike traveller, he's been everywhere in Europe in the last 16 years, he loves heavy metal music, eating jam directly from the jar with a spoon, living in the country and solving a Rubik's cube in less than 50 seconds. He's got super brains, he has a solution for everything but his stinky socks!
Never without: a Rubik's cube
Favourite quote: "It could be worse... It could be raining!"
We want you to savour the best of Italian hospitality, and we are not talking about fake-luxury hotels that all look the same. We will take you to places with character, authentic little B&Bs where you will sleep well and you will taste home made pies for breakfast, mountain lodges with stunning views, or particularly interesting hotels with a story to tell.
All rooms will have private bathrooms, and breakfast is always included.
We will choose for every departure the best solution considering the season and our guests' needs, and we'll send you the complete information via email before the start of the tour.
For example, one of our favourite places is La Ida Bed & Breakfast in Villareggia, our hometown, where our friend Sara, an architect and a painter, welcomes her guests with authentic kindness.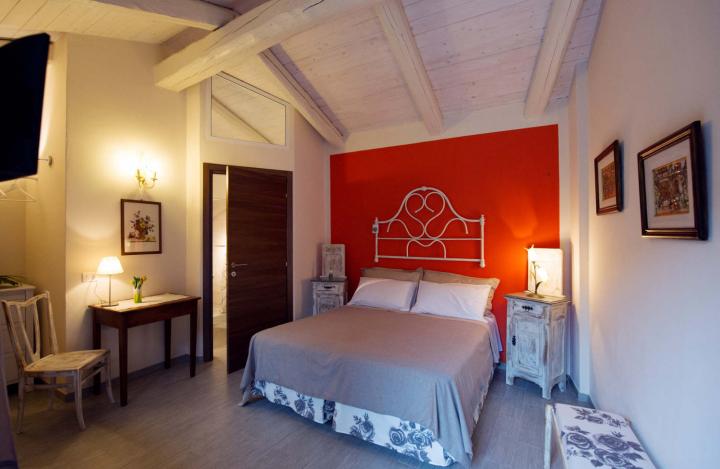 This tour is perfect for solo travellers:
we take care of everything
you are independent and can choose whether and when to share meals and your free time with the group
you get to know people from all around the world in a small group
We'll start with a coffee (yes, real espresso!) or a juice and pastry, get to know the group, and by the time we jump on board and start exploring you'll be among friends.
So, solo travellers are very welcome on our tours, and if you are ok with sharing a double/triple room with other members of the group we'll send you an email after the booking and you will tell us your preferences (e.g. girl ok to share a bedroom with other girls only, etc).
If however you prefer us to book a single room for you, it is available during the reservation process for an additional fee..
If there are no other solo travellers in your tour or if there is no possibility to match your preferences (or your roommates happen to snore too much!), your single room will be on us, no additional charge will be required.
Italian food fits all stomachs. So if you you are a vegetarian, or vegan, or you simply prefer not eat meat, there are plenty of possibilities.
Cereals and vegetables are the basis of the Mediterranean diet, and Piemonte is no exception.
We are the risotto experts (and it's gluten free), our most traditional dish has no meat ("bagna caoda", a delicious garlic and anchovies sauce, served hot with any kind of vegetable),we have dozens of typical kinds of cheese, and pasta with a simple tomato sauce, with crunchy breadcrumbs instead of Parmigiano is a vegan must-try.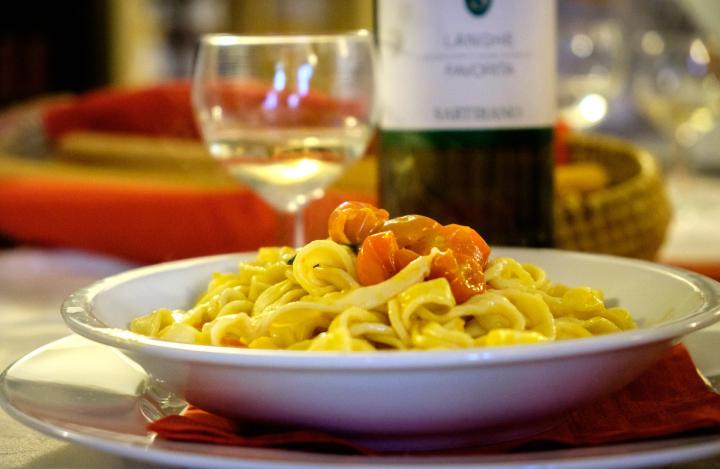 All our tours are directly made by us, Giroola Srl, via Amorosa 3, 10030 Villareggia (TO) (P.iva 11671600010, Scia 19022017-1520 Suap 9007)
During the tour you'll be covered by our Civil Responsibility Assurance (Reale Mutua Assicurazioni, via Corte d'Appello 1, 10122 Torino, nr.2007/03/2276452).  
We adhere to the Guarantee Fund (art.50 Dlgs 23.05.2011 n.79) which can be used by all travellers provided they have a contract in case of bankruptcy or insolvency for the refunding of the price paid. (Fondo Garanzia Viaggi Srl, via Nazionale 60, 00184 Roma, certificate n. A/146.1485/5/2017).
Booking Policy, from the General Terms and Condition for the Sale of Tour Packages:
3) RESERVATIONS
Acceptance of reservations by Giroola Srl is subject to availability. Reservations will be considered final following confirmation by Giroola Srl,  even via e-mail or fax, to the client.
Indications relative to the tour package not contained in the contract documents, brochures or other forms of written communication, will be supplied in time by Giroola Srl prior to the initial starting date in compliance with its duties as envisaged by Legislative . decree n. 79/2011.
4) PAYMENT
Upon booking, a registration fee and a deposit of 25% of the total amount is required. Full payment is due 30 days prior to departure. For reservations made within 30 days of departure, full payment is due upon booking. Lack of payment of the abovementioned sums on the dates established constitutes grounds for cancellation of reservations such as to determine, on the part of Giroola Srl, the right to terminate the contract.
5) TRANSFER OF CONTRACT
The client renouncing the contract may be substituted by another person provided that:
a) Giroola Srl be given written notice at least 4 weekdays prior to the date of departure, together with the necessary personal data of the transferee;
b) The transferee be able to satisfy all the conditions for the fruition of the service ( ex article 10 of Legislative decree n.111/95) and in particular the requisites relative to passports, visas, health certificates;
c) The transferee refund Giroola Srl for all expenses incurred for the transfer of the contract for the sum specified before the transfer.
Moreover, the transferor and the transferee are both accountable for the payment in full of the tour package price as well as for the sum as per item (c) of the present article.
As far as certain types of services are concerned, third party suppliers have the right to refuse the substitution of the transferee, even if effected within the time limit specified as per item (a) of the present article. Giroola Srl will therefore not be held responsible for the eventual non-acceptance of the substitution on behalf of third parties. This non-acceptance shall be notified in good time by Giroola Srl to the parties involved before departure.
6) WITHDRAWAL
In the event of withdrawing from the tour package contract, the client is, in any case, liable for the payment of the tour package price. If withdrawal takes place for reasons beyond those envisaged in article 7 of the present General Terms, the client shall pay, in compliance with ex article 1373, paragraph III, Italian Civil Code, cancellation penalties as specified below:
10% of the tour package price within 30 days prior to departure
30% of the tour package price from 29 to 18 days prior to departure
50% of the tour package price from 17 to 10 days prior to departure
75% of the tour package price from 9 to 3 weekdays prior to departure
100% of the tour package price beyond these terms.
7) WITHDRAWAL OF CLIENT WITHOUT PENALTY
The client may withdraw from the contract, without incurring any penalty, in the following circumstances:
a significant change of one or more elements of the contract which can be objectively considered as fundamental for the fruition of the tour package in its entirety and proposed by Giroola Srl.
after the conclusion of the contract itself but prior to departure and not accepted by the client.
In the abovementioned circumstances, the client is entitled to the following options:
the fruition of an alternative tour package, with no increase in price or with the restitution of the excess in price, if the second tour package costs less than the first;
the restitution of any sum corresponded as partial payment. Said restitution must be made within seven weekdays from receiving the request for reimbursement.
The client must communicate the decision (to accept the change or to withdraw) within two weekdays from receiving notice of the price increase or change. In the absence of specific notice within the said term, the proposal made by Giroola Srl will be considered accepted. The client who decides to withdraw from the contract before departure for circumstances beyond those listed above shall pay, after deducting the account paid as per article 4, the penalty indicated in article 6.
8) TOUR VARIATIONS
Variations to the tour, requested by the client, after the confirmation of booking, could involve processing expenses for Giroola Srl and at times penalties charged by suppliers. If so, the customer will be charged. Partial withdrawal of some of the travellers under the same contract and the resulting decrease in number of tour members is to be considered partial cancellation and is consequently regulated as stated in article 6.
What's included
Meals
2 breakfasts
2 lunches
1 dinner
and some surprises!
Transport
Luggage transfer and transport to the trails and return in the evening to the bed and breakfast
Assistance for 2 days on the trails
Minivan
Accommodation
1 Nights in a cozy bed and breakfast in double room (single room supplement: 25 euros total)
Activities
2 days of mountain biking trails
Giroola's technical t-shirt
Spectacular trails and landscapes around the small wonderful lake, a jewel in the mountains
Medium challenging
Glacier, bike parks and plenty of descents on an incredible journey of pure mountain
Challenging
A weekend full of breathtaking views on the path of an ancient glacier
Medium challenging
Reviews
5
MTB LAKE ORTA
sympathy efficiency safety, preparation for emergencies and extreme flexibility, ... dress everything with a visit to wonderful places, aperitifs and dinners sitting at the table like old friends without feeling "accompanied" and that's it, a trip where you can take your brain off is just let Marco guide you :) Start as a client and finish and as a friend (automatic translation by Google)
0
I wanted to witness the excellent experience of mountain biking, on Lake Orta, Mount Mottarone and Oasi Zegna for 3 days, together with the guide Marco. Ride to the top with beautiful views, exciting climbs and descents and why not, even good food. Right balance between dirt and asphalt, intense, but not exhausting. Perfect logistics and organization, the extremely competent guide, passionate about what he does and extremely available. Highly recommended !!! (automatic translation by Google)