3 days by Motorcycle just for girls in Piemonte, Verdon and Provence for the lavender blossom: our perfect tour for female bikers
The mountain passes, the spectacular Verdon Gorges, the lavender bloom in an unforgettable biking trip reserved for women motorcyclists
In this special Tour, designed for those who love to chew up miles in amazing scenery, we bring you up to France, in the Verdon natural park, and to Provence, for the lavender blossom.
This is journey that we really love, a destination that surprises every time in front of spectacle of nature: the Verdon gorges, the Lake Sainte Croix, and, to get there, the mountain with its Alpine passes that are perfect for motorcycles.
And then the spectacle of French Provence, which at this time of the year (June-July) offers its flowery and fragrant fields, colorful purple expanses between perched villages and the typically French atmosphere.
Three fantastic days, in the saddle, for a small group of up to 8 motorcyclists accompanied by our Elena, an unmissable journey!
Total kms: approximately 870 kms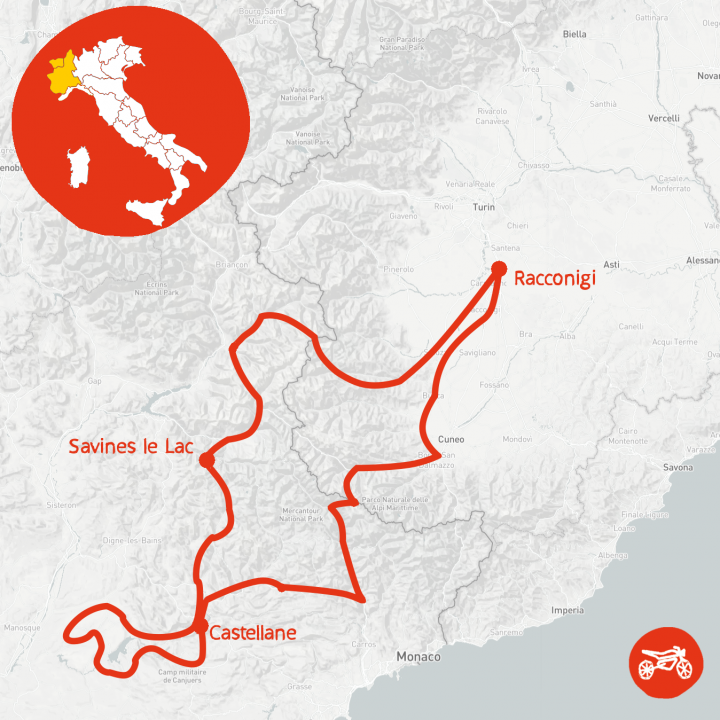 Alcuni suggerimenti che potrebbero interessarti:
Reviews
5
Motorcycle tour ONLY WOMEN !!!
3-day motorcycle tour in our beautiful Piedmont. In this wonderful experience Elena accompanied us, guide test, with his sympathy, joy and not least his knowledge of the territory has made this trip truly unforgettable. They have been 3 days in the name of SORELLANZA, full of activities, paths exciting, beautiful colors, excellent food !! Thanks to all .... and the next adventure !!! (automatic translation by Google)
5
Motorcycle tour ONLY WOMEN !!!
I did a three-day motorcycle tour in Piedmont for women only and ... what can I say ... it was wonderful! Our guide Elena was really good at calibrating mileage, places to visit, breaks. Very beautiful and varied roads passing from the mountains at the foot of Monviso to the hills of the Albese and Monferrato, among woods, vineyards, sanctuaries, characteristic villages, various attractions, tastings of local products, cooking lessons and even relaxation at the thermal springs. If I think back, it seems to me impossible to have done so much in just three days. The restaurants all excellent as well as the hotels. And then Elena is a great connoisseur of the streets for which you leave the streets of great flow to go into beautiful streets and little traffic. All very nice experience absolutely to recommend and maybe repeat. Even if you are Piedmontese, let yourself be tempted because you will be able to discover new and unexpected places and if instead you are not waiting for it, you will fall in love with this wonderful region! Thanks Giroola! (automatic translation by Google)
5
A little 'late ... but I thought right today at the beautiful bike ride Just for Girls made in the days between April 29 and May 1 in the hills of Monferrato and the Langhe Tutto fantastico !! As I have already seen in another bike ride with Elena I can only confirm that it is a perfect guide! But not only can you also be a very pleasant travel companion / friend .... see you next time !!! (automatic translation by Google)