3 Days Minibus tour in the Langhe and Monferrato
The spectacular landscapes of the Unesco heritage vineyards, the food, the wine, castles, a journey in a small group to feel like among friends in this exceptional land
Welcome to a real holiday full of pleasure for the eyes and the palate: here the vineyards are shining with their colors throughout the year, here the Slow Food movement was born and the cheeses, the wine, the truffle are the absolute protagonist in a culinary tradition which is refined and down to earth at the same time.
The Monferrato will enchant us with the harmonious stillness of the Abbey of Santa Maria di Vezzolano, and with the flavors of the home cooking lesson, when everyone will don the apron to prepare our lunch together.
We will discover together the Langhe of Barolo and Barbaresco, the Underground Cathedrals of Canelli, taste the goat cheeses and explore remote villages, visit castles and admire the towers that protected against invasion.
UNESCO World Heritage Site, the landscape of the Piedmontese vineyards is surely unforgettable, but it is only the beginning. These are real places, not tourist postcards, and here you will find the people, the food, the traditions of a region that can offer more and more to the traveler.
We are at home here, and we will make you feel at home as well.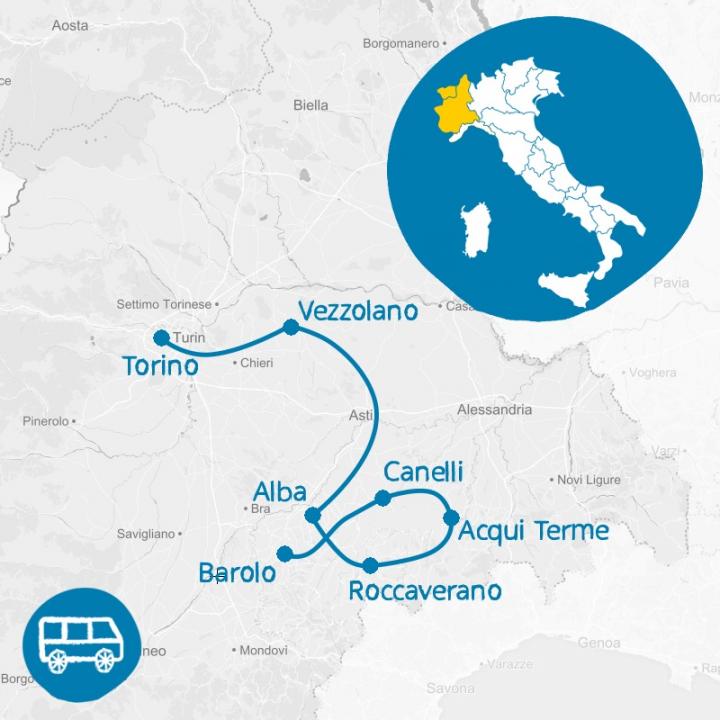 What's included
Meals
2 breakfasts
Cooking lesson with lunch
Goat cheese tasting at the farm
Transport
Transportation for 3 days on our brand new, air conditioned and free wi-fi equipped 9 seats minibus
Accommodation
2 night accommodation in B&Bs in double rooms, ensuite bathroom, breakfast included
Activities
Visit of the Santa Maria di Vezzolano abbey
Cooking lesson with lunch
Visit to the hot spring fountain in Acqui Terme
Visit to the "Wine Cathedrals" in Canelli with wine tasting
Visit to the Barolo Chapel
Goat cheese tasting at the farm
Visit by minibus to the most iconic villages in the Langhe region
Reviews
5
By minibus
Monferrato, Langhe and Roero, plumbed and savored intensely. Our tour guide Marco, with his deep knowledge of the area, has shuttled us through streets, lanes and country lanes, in a continuous discovery of villages, cellars, abbeys and medieval towers and vineyards! What a show of vineyards! Pampered, yes it is the right word, pampered! Ate in fine restaurants and slept in beautiful locations. The cooking class is also very interesting; ravioli del plin and tagliatelle have no more secrets ;-) An experience above our expectations, thanks Marco and thanks Giroola. (automatic translation by Google)
5
Easter tour Langhe, Roero, Monferrato
Our second tour with Giroola and with new pleasant travel companions, up and down hills among hazel groves and vineyards, castles and small villages with towers and terraces from which to let your gaze wander over quiet and relaxing landscapes. Interesting tastings, the cheerful welcome of grandma Cleri and Sergio, the knowledge of young lovers of their land and its products that seek there to build the future, the accurate organization of the itinerary and the reassuring and discreet presence of Alessandro: we are very satisfied and highly recommend it. (automatic translation by Google)