3 Day Lake Orta and Alps Minibus Tour
Mountains, lakes and castles: the beauty of nature and the scent of history
An enchanted medieval village, a fortress built on an ancient castle, a peaceful tiny island in the middle of a lake, an industrial utopia from last century, a mysterious sanctuary and wine that comes from a legend. These are some of the ingredients of this exciting tour that in 3 days will let you taste history, nature and, of course, food and wine.
This is where the Alps offer their best: high peaks, sweet hills and lakes that tell the stories of ancient glaciers. This is where Hannibal crossed the mountains with his elephants to fight the Roman Empire, this is where you'll discover the legends and the flavours of an authentic corner of Italy that is still undiscovered territory for many. 
You'll enjoy the sweet Lake Orta, sleep above the clouds in Bielmonte in the preserved Oasi Zegna, you'll have a picnic and see an art exhibition at the Fort of Bard and enjoy great views of the astonishing Valsusa valley from the Sacred of San Michele, You'll learn about history at the roman amphitheatre in Susa, and listen to fairy tales walking in the woods, you'll taste food and wine and have a great time.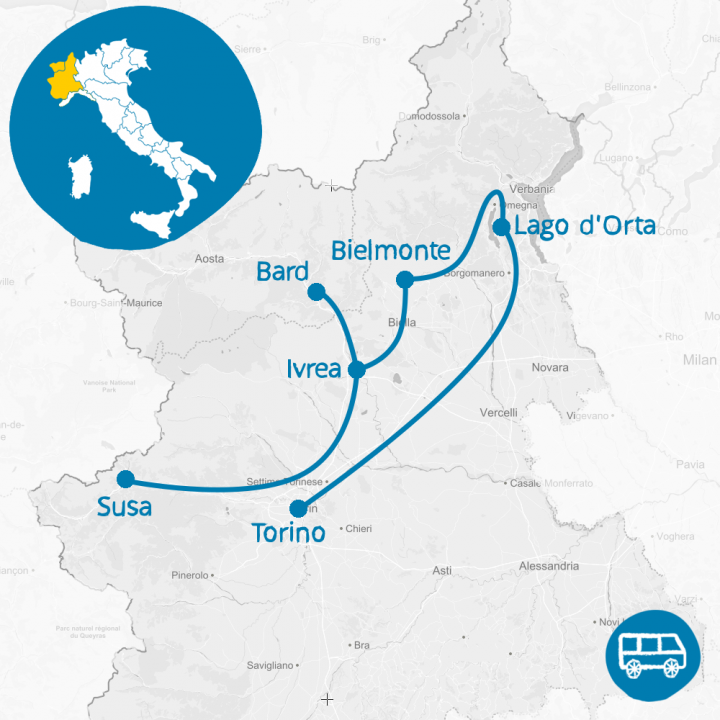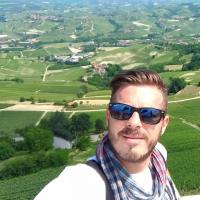 Alessandro
Alessandro is a sportsman and a team player: soccer, tennis, beach volley, baseball, basketball, even poker, if there is a game you'll find him there. Self-made guitarist, fearless snowboarder, his manners are sweet and his humour will charm you. The last to go to sleep, the first to wake up in the morning to take his dog for a walk and get ready, perfectly groomed. He drives smoothly and knows every road in our beautiful Piemonte.
Never without: a ball to play with
Favourite quote: "I can draw horses very well"
For our minibus tours we have chosen a Fiat Ducato, the most spacious in its category: it accommodates up to 8 passengers on individual seats (plus the driver) and guarantees to each traveler their personal space even at full load. We gave him a name, Megamind, and with Alessandro at the helm he will be a perfect traveling companion!
It features:
wifi available for travelers
a great sound system
individually adjustable air conditioning
adjustable rear single seats, padded armrests and 3-point seat belts
modular and flexible configuration
high roof so you can stand up inside
We also have a more agile and small Ford Tourneo (this is called Sciapaiar), it has 9 seats as well, spacious, brand new and with all the comforts of the Ducato.
In any case you will like our minibuses, guaranteed by Giroola.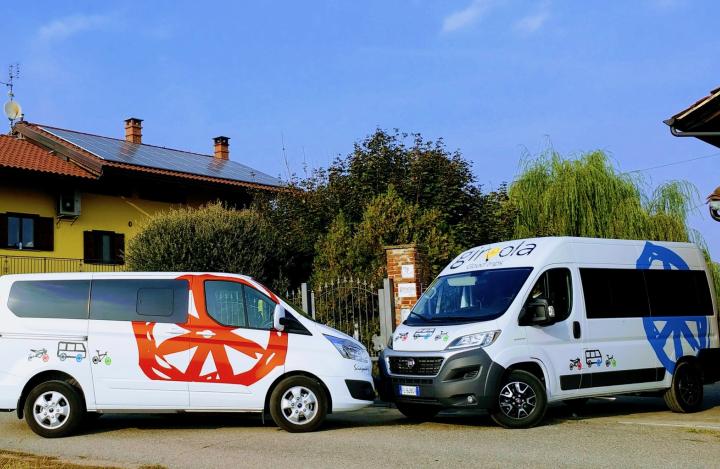 We want you to savour the best of Italian hospitality, and we are not talking about fake-luxury hotels that all look the same. We will take you to places with character, authentic little B&Bs where you will sleep well and you will taste home made pies for breakfast, mountain lodges with stunning views, or particularly interesting hotels with a story to tell.
All rooms will have private bathrooms, and breakfast is always included.
We will choose for every departure the best solution considering the season and our guests' needs, and we'll send you the complete information via email before the start of the tour.
For example, one of our favourite places is La Ida Bed & Breakfast in Villareggia, our hometown, where our friend Sara, an architect and a painter, welcomes her guests with authentic kindness.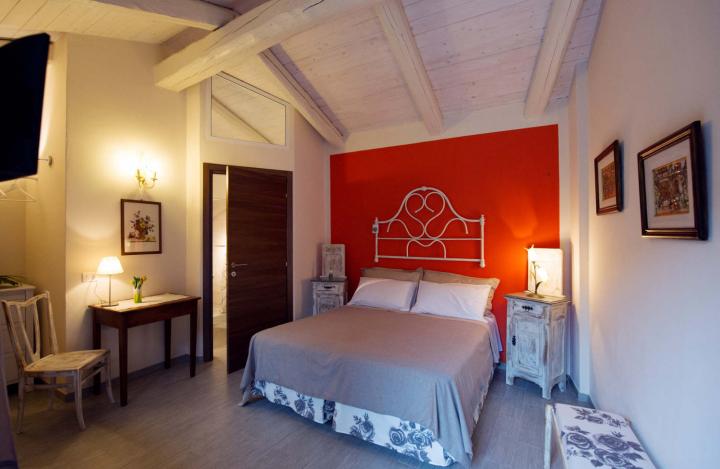 In our travels you will find solo travelers, couples, or pairs of friends, and in a small group of eight it's easy to become friends straight away. This tour is perfect for those that traveling alone but don't want to be on their own for the whole trip. You're independent and you can choose if and when to share meals and your free time with the group.
Our travelers are people who know how to travel, in fact they arrive independently to the place of the appointment, mainly from all over Italy (but not only) and who choose to take a trip with us to learn differently about places, people, flavors and traditions. We are proud to say that our travelers are the best part of our trips!
Solo travellers are always welcome in our tours, and if you feel like sharing a double of triple room with other members of the group we will send you an e-mail after your reservation and you will be able to tell us about your preferences (for example, if you are a girl and you would like to share a room with girls only etc). You will not pay any surcharge.
If you prefer, you can book a single room for a fee.
If there are no other solo travellers in your tour or if there is no opportunity to satisfy your preferences, your single room will be offered by us at no extra charge.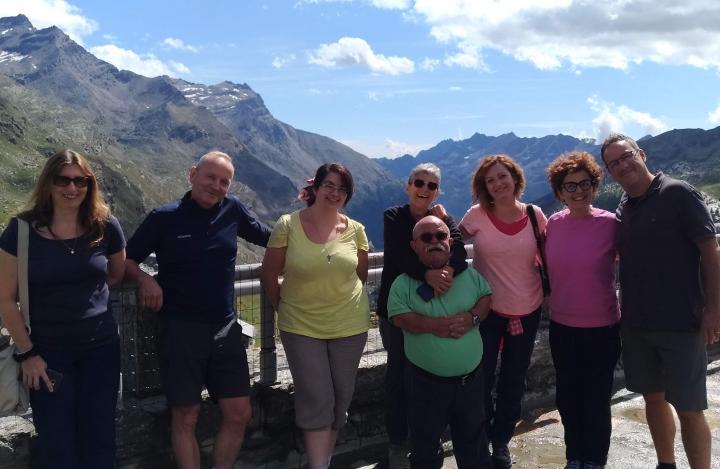 Before each trip we always ask our travelers about any allergies, intolerances or special food needs, and we prepare in advance with restaurants and hotels to make everyone's experience the best possible.
We also pay attention to the needs of vegetarians and vegans, ensuring that suitable alternatives are always provided.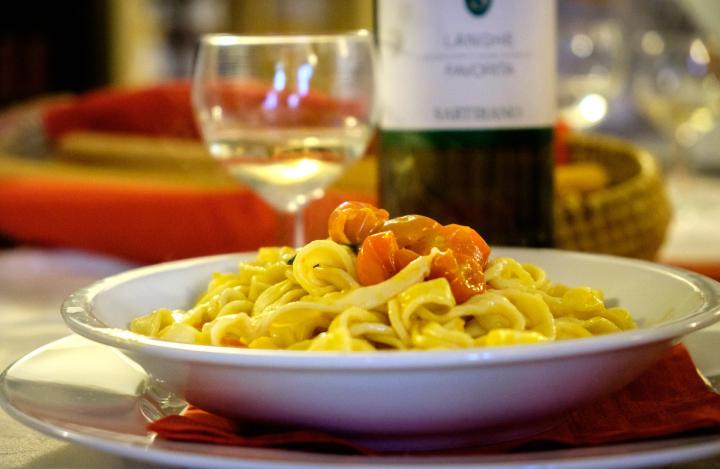 All our tours are directly made by us, Giroola Srl, via Amorosa 3, 10030 Villareggia (TO) (P.iva 11671600010, Scia 19022017-1520 Suap 9007)
During the tour you'll be covered by our Civil Responsibility Assurance (Reale Mutua Assicurazioni, via Corte d'Appello 1, 10122 Torino, nr.2007/03/2276452).  
We adhere to the Guarantee Fund (art.50 Dlgs 23.05.2011 n.79) which can be used by all travellers provided they have a contract in case of bankruptcy or insolvency for the refunding of the price paid. (Fondo Garanzia Viaggi Srl, via Nazionale 60, 00184 Roma, certificate n. A/146.1485/5/2017).
Booking Policy, from the General Terms and Condition for the Sale of Tour Packages:
3) RESERVATIONS
Acceptance of reservations by Giroola Srl is subject to availability. Reservations will be considered final following confirmation by Giroola Srl,  even via e-mail or fax, to the client.
Indications relative to the tour package not contained in the contract documents, brochures or other forms of written communication, will be supplied in time by Giroola Srl prior to the initial starting date in compliance with its duties as envisaged by Legislative . decree n. 79/2011.
4) PAYMENT
Upon booking, a registration fee and a deposit of 25% of the total amount is required. Full payment is due 30 days prior to departure. For reservations made within 30 days of departure, full payment is due upon booking. Lack of payment of the abovementioned sums on the dates established constitutes grounds for cancellation of reservations such as to determine, on the part of Giroola Srl, the right to terminate the contract.
5) TRANSFER OF CONTRACT
The client renouncing the contract may be substituted by another person provided that:
a) Giroola Srl be given written notice at least 4 weekdays prior to the date of departure, together with the necessary personal data of the transferee;
b) The transferee be able to satisfy all the conditions for the fruition of the service ( ex article 10 of Legislative decree n.111/95) and in particular the requisites relative to passports, visas, health certificates;
c) The transferee refund Giroola Srl for all expenses incurred for the transfer of the contract for the sum specified before the transfer.
Moreover, the transferor and the transferee are both accountable for the payment in full of the tour package price as well as for the sum as per item (c) of the present article.
As far as certain types of services are concerned, third party suppliers have the right to refuse the substitution of the transferee, even if effected within the time limit specified as per item (a) of the present article. Giroola Srl will therefore not be held responsible for the eventual non-acceptance of the substitution on behalf of third parties. This non-acceptance shall be notified in good time by Giroola Srl to the parties involved before departure.
6) WITHDRAWAL
In the event of withdrawing from the tour package contract, the client is, in any case, liable for the payment of the tour package price. If withdrawal takes place for reasons beyond those envisaged in article 7 of the present General Terms, the client shall pay, in compliance with ex article 1373, paragraph III, Italian Civil Code, cancellation penalties as specified below:
10% of the tour package price within 30 days prior to departure
30% of the tour package price from 29 to 18 days prior to departure
50% of the tour package price from 17 to 10 days prior to departure
75% of the tour package price from 9 to 3 weekdays prior to departure
100% of the tour package price beyond these terms.
7) WITHDRAWAL OF CLIENT WITHOUT PENALTY
The client may withdraw from the contract, without incurring any penalty, in the following circumstances:
a significant change of one or more elements of the contract which can be objectively considered as fundamental for the fruition of the tour package in its entirety and proposed by Giroola Srl.
after the conclusion of the contract itself but prior to departure and not accepted by the client.
In the abovementioned circumstances, the client is entitled to the following options:
the fruition of an alternative tour package, with no increase in price or with the restitution of the excess in price, if the second tour package costs less than the first;
the restitution of any sum corresponded as partial payment. Said restitution must be made within seven weekdays from receiving the request for reimbursement.
The client must communicate the decision (to accept the change or to withdraw) within two weekdays from receiving notice of the price increase or change. In the absence of specific notice within the said term, the proposal made by Giroola Srl will be considered accepted. The client who decides to withdraw from the contract before departure for circumstances beyond those listed above shall pay, after deducting the account paid as per article 4, the penalty indicated in article 6.
8) TOUR VARIATIONS
Variations to the tour, requested by the client, after the confirmation of booking, could involve processing expenses for Giroola Srl and at times penalties charged by suppliers. If so, the customer will be charged. Partial withdrawal of some of the travellers under the same contract and the resulting decrease in number of tour members is to be considered partial cancellation and is consequently regulated as stated in article 6.
What's included
Meals
3 breakfasts
Picnic and the Fort of Bard
Piedmontese 'merenda sinoira' with wine tasting
Transport
Transportation for 3 days on our brand new, air conditioned and free wi-fi equipped 9 seats minibus
Accommodation
2 night accommodation in B&Bs in double rooms, ensuite bathroom, breakfast included (single room supplement: 50 euros total)
Activities
Visit to a wine producer, with wine tasting and typical Piedmontese 'merenda sinoira'
Visit to Lake Orta
Tour of the Panoramica Zegna
Visit of Ivrea, Unesco Heritage site
Visit of the Fort of Bard with picninc
Entrance to the S.Antonio of Ranverso Abbey
Visit of the Roman Area in Susa
Entrance to the Sacra of Saint Michele
Spectacular trails and landscapes around the small wonderful lake, a jewel in the mountains
Medium challenging
The hillside roads of the Langhe and Roero regions, a small group of travelers and a Vespa to enjoy the day in full freedom and in style!
From the calm waters of Omegna and San Giulio to the mountain curves of Bielmonte
Reviews
4
This was my first (but definitely not my last) trip with Giroola. I was impressed by the first contact via email (thanks Paola) and wasn't let down at any stage. Alessandro our driver/guide was an exceptional young man. Knowledgeable, professional, funny but more than this, sensitive to everyone's needs. He walked slowly or fast depending on weather and terrain, opened doors and was always aware of everyone. Nothing was ever too much trouble. The tour was great despite the weather. I saw places I would never have seen without Giroola. So, thanks guys, I'll see you again. Oh, Marco, thank your mum for the biscuits, they were ymmmy!
5
I was very happy to have spent 3 days in minibus on the roads of Piedmont with Giroola. The relaxed and familiar rhythms made this short holiday also very pleasant for my eighty-year-old father. I think there is more to be discovered going in "girula" (so they say?) With Giroola. Therefore I would recommend it to everyone, because the choice is varied and can satisfy different needs .... See you soon! (automatic translation by Google)