5 Days of Trekking in Valle d'Aosta, Tour to discover lakes, villages and mountain forests
A whole week to experience an extraordinary natural world and beautiful unspoiled places
Valle d'Aosta is the ideal place to discover the Italian Alps: beautiful trails, spectacular alpine lakes and characteristic villages surrounded by 3000 meters peaks. In these places you can really appreciate the beauty of unspoiled nature, and it is here that we have organized a fun tour for trekking lovers.
It consists of 5 days of intermediate level walking trips (E), departing in the morning and returning in the evening to Courmayeur, where our group, for a maximum of 8 travelers, will make a base to leave every day to a different destination. Accompanied by an Environmental Hiking Guide, we will explore an enchanting territory walking all day, and then meet again in the evening all together 'with the legs under the table', as we say in Piedmont.
We will also go for a spectacular cable car ride, on the scenic Sky Way of Mont Blanc, up to 3,466 meters of Punta Helbronner.
Our minibus will assist us to take us on the paths, and to take us from Turin (or from Ivrea - TO) to Courmayeur, and bring us back at the end of the holiday.
The price also includes the night accommodation, and all packed lunches and dinners.
Please note: the route can be modified according to weather and safety conditions. So there might be last minute variations.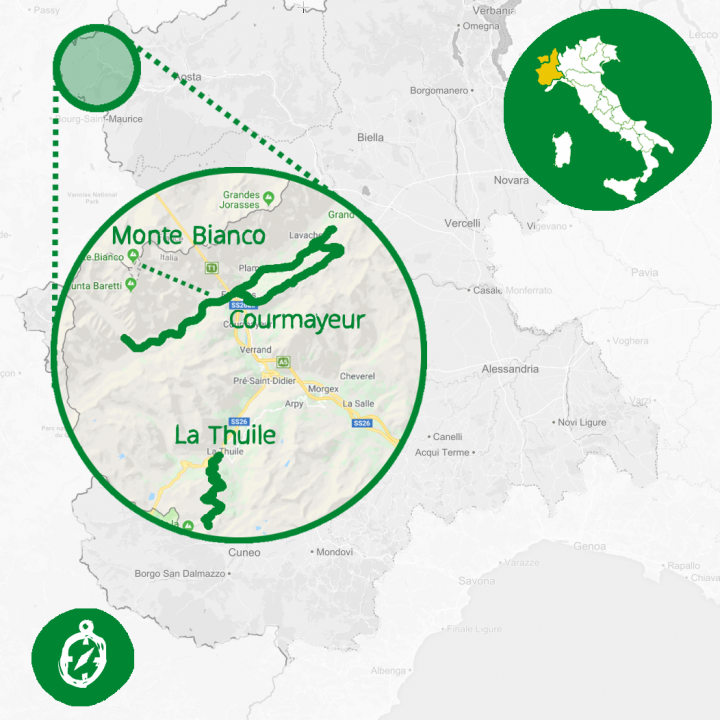 difficulty level:

Intermediate

Itineraries on varied paths, sometimes quite steep. To get the most out of these hikes you should be quite to walking with your backpack.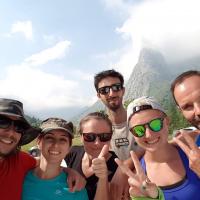 Marco B.
A great sports and mountain lover, during the summer you will find him along the trails hiking and mountain biking, and in the winter again there with skis or a snowboard on his feet. Always looking for new routes, he loves good food and good company. When he is not in the mountains you'll find him at the sea side surfing or rehearsing a play with his actor friends.
Never without: a good cup of coffee
Favorite quote: "Sports is the toy department of life"
This tour consists of 5 days of hiking, based in Courmajeur (AO). We can therefore meet directly there, if it is convenient for you.
If you prefer, we have two other meeting points planned, that we will drive by in our 9 seats Minibus with air conditioning and free wi-fi on the road to Valle D'Aosta:
- Porta Susa railway station in Torino
- Ivrea (TO) railway station
In any case, once the group is established, we will start the day as usual with a welcome breakfast, to get to know each other before leaving for our adventure.
Here are the scheduled times:
Departure day:
- 6.30 am at Turin Porta Susa railway station 
-at 7:30 stop at Giroola headquarters at Villareggia (TO)
- 8:15 am stop at Ivrea train station (TO)
- 10:00 am arrival at Courmayeur (AO) and stop for breakfast
- 10.45 am departure of the excursion from the village La Visaille (AO)
The tour will end on the fifth day at about 4pm, time of arrival of the excursion to La Thuile (AO), and then we will start driving towards home by minibus.
In our travels you will find solo travelers, couples, or pairs of friends, and in a small group of eight it's easy to become friends straight away. This tour is perfect for those that traveling alone but don't want to be on their own for the whole trip. You're independent and you can choose if and when to share meals and your free time with the group.
Our travelers are people who know how to travel, in fact they arrive independently to the place of the appointment, mainly from all over Italy (but not only) and who choose to take a trip with us to learn differently about places, people, flavors and traditions. We are proud to say that our travelers are the best part of our trips!
Solo travellers are always welcome in our tours, and if you feel like sharing a double of triple room with other members of the group we will send you an e-mail after your reservation and you will be able to tell us about your preferences (for example, if you are a girl and you would like to share a room with girls only etc). You will not pay any surcharge.
If you prefer, you can book a single room for a fee.
If there are no other solo travellers in your tour or if there is no opportunity to satisfy your preferences, your single room will be offered by us at no extra charge.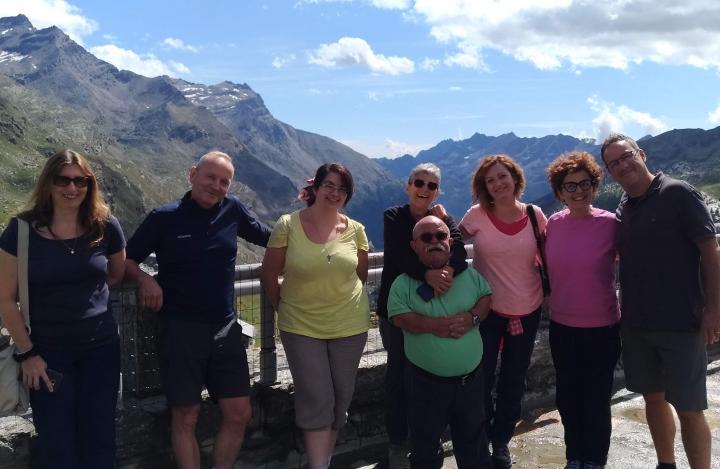 What's included
Meals
5 breakfasts 
4 picnic lunches on the trails
1 lunch at restaurant Bellevue
4 dinners
Transport
transfer from Turin or Ivrea to Courmayeur and back by our minibus
transport to the starting points of the paths

1 return ticket Pontal (Courmayeur) - Punta Helbronner on the Sky Way Mont Blanc cable car
Accommodation
4 nights in a 3-star hotel, in a double room with breakfast (single room supplement: 100 euros total)
Activities
5 days of trails accompanied by an Environmental Hiking Guide
Travel by Sky Way Mont Blanc cable car
Alpine Ibex, glaciers and splendid valleys in the First National Park of Italy, based in Aosta in the hotel and a night of experience in refuge
Intermediate
A real journey to discover alpine villages, high mountain pastures and pleasant paths with views of the Matterhorn, without the strain of heavy backpacks
Intermediate
Magnificent forests, high mountains and the scenic Buco del Viso, the first tunnel in the Alps
Challenging
Reviews
5
Try to believe, we leave without knowing what to expect, then with great surprise we know exceptional people like Alessandro and Gabriele who always make you feel at ease with a naturalness as if it were all taken for granted, I hope that they will continue so everything done with the heart and experience.Consiglio has all to try for a few days l, experience with spinning whatever you choose will not be disappointed they will take care of you at 360 degrees, what more can I hope to do soon another experience with them in the company of people who transmit enthusiasm. A hello from Maria da Genova (automatic translation by Google)
5
Trekking in Valle d'Aosta from 23 to 27 July 2018. The impression of being in good hands I had from the first approach, thanks to the phone call of Paola who seemed immediately a smart person. A month after the trek, the arrival of an illustrated postcard of the Valle d'Aosta, sent to me by Alessandro, confirmed my feeling. I spent a fantastic week, in the company of new people who seemed to know me for a long time. Excursions to the splendid valleys at the foot of the Mont Blanc massif have been accompanied by impeccable hotel accommodation. I was lucky enough to enjoy the company of Gabriele Pellerino, a very well prepared environmental guide, who taught me how to look at the mountain with different eyes, observing aspects that I had never considered before. It was a very positive experience above the best expectations that I highly recommend and that I hope to repeat, so you can get to know some other wonderful place suggested by Giroola. Thank you so much. (automatic translation by Google)