4 days of walks on the Morainic Trail, Special Tour for the June 2nd holiday
From Andrate to Brosso, the highlights of the Trail and the most beautiful places of the Morainic Amphitheater of Ivrea: the historical Mills, the Serra Morenica, the water path, the Path of the Erratic Boulders
In these four days of travel we will cover the whole territory of the Morainic Amphitheater of Ivrea, from Andrate to Brosso, on the edge of the glacial moraine, and we will embrace the 2 square km of this fascinating succession of lakes, hills and woods , villages, mountain churches, vineyards and meadows.
With the professional and cheerful company of Macchie, Marco Macchieraldo, expert and eclectic Environmental Hiking Guide that will make us dream, tell us tales and legends and lead us on the easy and fun paths of this Moraine Way, and with the help of our minibus that will take us to the starting points of the excursions, we will be able to enjoy this 'best of' of the route, originally well over 120 km long.
We will instead hike about 6-7 km a day, divided into several circular walks at the most interesting panoramic points where we will arrive by Minibus: for this reason this trip is suitable for all those who want to spend a weekend on the move, without neglecting the pleasures of good food. Each day in fact ends with a different Piedmontese-style tasting and snack, an unmissable experience and now a regular feature of the Morainic Trail by il Macchie and Giroola.
We will be the base for the nights of the tour in Ivrea, a twentieth century industrial city that is a UNESCO World Heritage Site.
Four days full of poetry, nature and flavors, for a small group of up to 8 lucky travelers!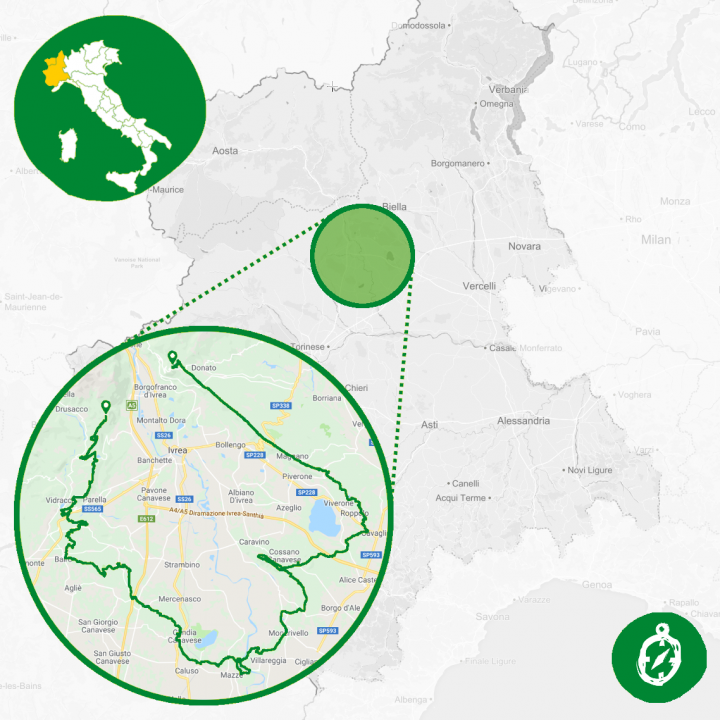 difficulty level:

For everyone

Tours in which there are some walking stretches together with other nature discovery activities. Suitable to all travellers.
What's included
Meals
3 breakfasts
4 packed lunches on the trails
4 end-of-day tastings and snacks
The dinners are not included because we realized that after the ample afternoon snacks, no one wants to eat anymore 
Transport
Transport from Turin or Ivrea on the first day of travel, and return to Turin (or Ivrea) at the end of the journey
Assistance and transportation by Minibus for the 4 days of travel along all the highlights of the Ivrea Moraine Amphitheater.
Accommodation
3 night accommodation in B&Bs in double rooms, ensuite bathroom, breakfast included (single room supplement 90 euros for the whole trip, if required)
Activities
Accompaniment of an Environmental Hiking Guide for 4 days of trails on the Morainic Amphitheater of Ivrea
Alcuni suggerimenti che potrebbero interessarti: