3 days hiking on the trails of Liguria, tour between cliffs, olive trees and focaccia
Discover the beautiful coastline around Finale Ligure, a walking route overlooking the sea
This is 3 days of easy / intermediate level hiking, starting in the morning and returning in the evening to Finale Ligure, one of the most beautiful villages in Italy, our base for this adventure. During the day we will walk on paths overlooking the sea, we will discover ancient dolmens, streams and rocky outcrops, accompanied by an Environmental Hiking Guide, and in the evening we will rest tasting the Ligurian specialties. 
It is a fascinating trip for those who love nature, in a small group of up to 8 people, which allows you to meet other travelers and walk among friends, listening to stories and learning to know this beautiful corner of Liguria.
Our minibus will assist us to take us on the paths, and to take us from Turin (or from Fossano - CN) to Finale Ligure, and bring us back at the end of the holiday.
The price also includes the night accommodation, and all packed lunches and dinners.
Please note: the route can be modified according to weather and safety conditions. So there might be last minute variations.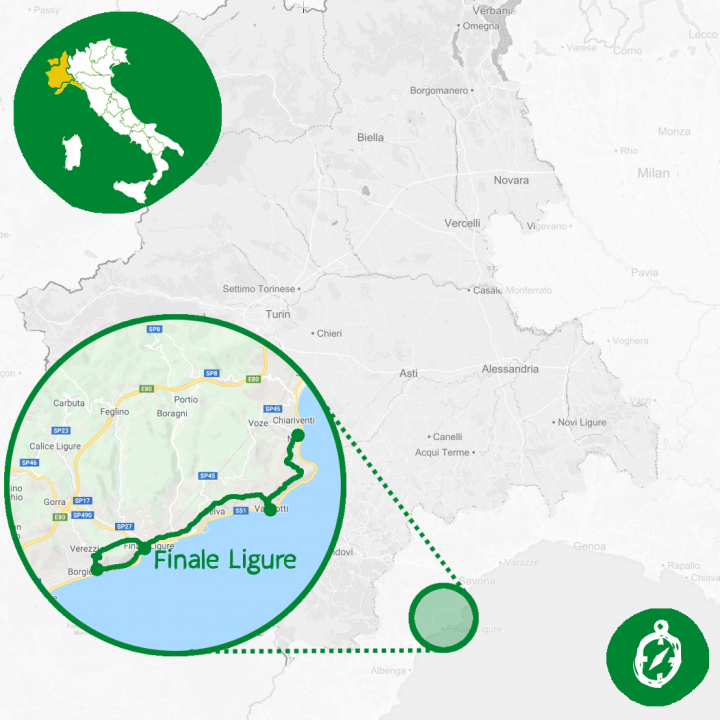 difficulty level:

Easy

Relatively short itineraries on paths and dirt roads, with some climbs to be faced without hurry and at the right pace! Ideal for new hikers and for those who want to take up easy hiking again.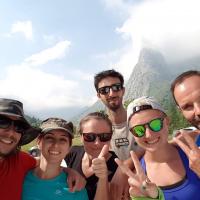 Marco B.
A great sports and mountain lover, during the summer you will find him along the trails hiking and mountain biking, and in the winter again there with skis or a snowboard on his feet. Always looking for new routes, he loves good food and good company. When he is not in the mountains you'll find him at the sea side surfing or rehearsing a play with his actor friends.
Never without: a good cup of coffee
Favorite quote: "Sports is the toy department of life"
This tour consists of 3 days of hiking, based in Finale Ligure (SV). We can therefore meet directly there, if it is convenient for you.
If you prefer, we have two other meeting points planned, that we will drive by in our 9 seats Minibbus with air conditioning and free wi-fi on the road to Liguria:
- Porta Susa railway station in Torino
- Fossano (CN) railway station
In any case, once the group is established, we will start the day as usual with a welcome breakfast, to get to know each other before leaving for our adventure.
Here are the scheduled times:
- 6.00 am departure from Giroola, Villareggia (TO)
- 7.00 am stop at Turin Porta Susa railway station
- 8:15 am stop at Fossano train station (CN)
- 10:00 am arrival at Finale Ligure (SV) and stop for breakfast
- 10:30 am departure of the excursion from Finale Ligure (SV)
The tour will end at about 4 pm on the third day, time of the arrival of the excursion to Noli Ligure (CN). From here we will then continue home via Minibus.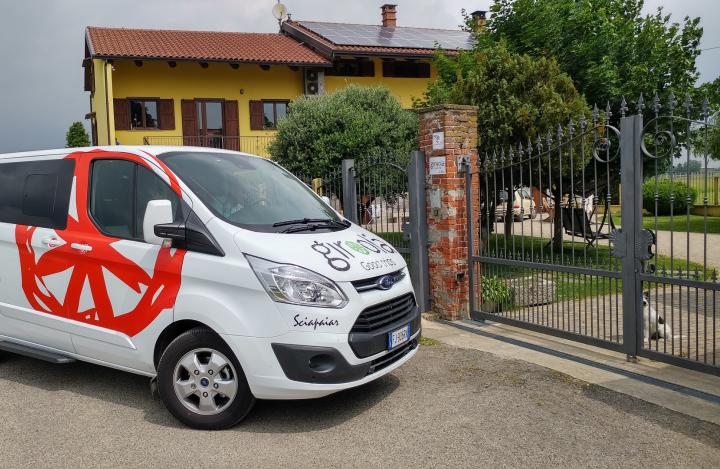 In our travels you will find solo travelers, couples, or pairs of friends, and in a small group of eight it's easy to become friends straight away. This tour is perfect for those that traveling alone but don't want to be on their own for the whole trip. You're independent and you can choose if and when to share meals and your free time with the group.
Our travelers are people who know how to travel, in fact they arrive independently to the place of the appointment, mainly from all over Italy (but not only) and who choose to take a trip with us to learn differently about places, people, flavors and traditions. We are proud to say that our travelers are the best part of our trips!
Solo travellers are always welcome in our tours, and if you feel like sharing a double of triple room with other members of the group we will send you an e-mail after your reservation and you will be able to tell us about your preferences (for example, if you are a girl and you would like to share a room with girls only etc). You will not pay any surcharge.
If you prefer, you can book a single room for a fee.
If there are no other solo travellers in your tour or if there is no opportunity to satisfy your preferences, your single room will be offered by us at no extra charge.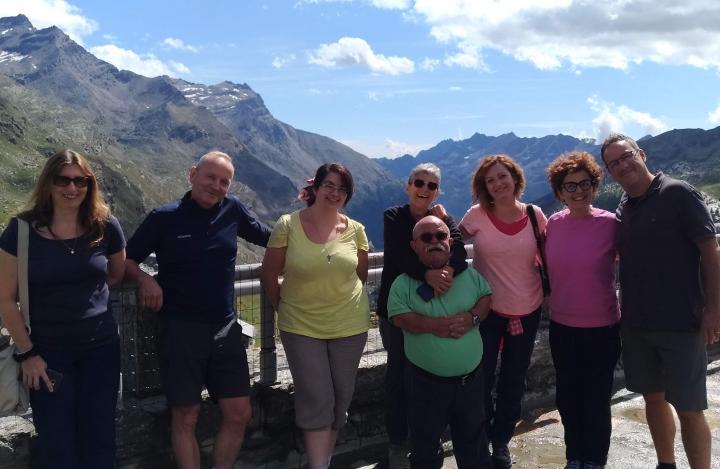 What's included
Meals
2 breakfasts
An additional welcome breakfast
3 picnic lunches on the trails
2 dinners
Transport
transfer from Turin or Fossano to Finale Ligure and back
transport to the starting points of the paths
Accommodation
2 nights in a 3-star hotel with breakfast, in a double room (single room supplement: 50 euros total)
Activities
3 days of trails accompanied by an Environmental Hiking Guide
A walk with the Magistre d'Erbe, an excursion to alpine huts, the Herbs dinner, the discovery of the villages: nature and traditional wisdom to learn to recognize mountain herbs
For everyone
From Sestri Levante to Monterosso, passing through colorful villages like Framura and stopping to admire the magnificent views of the Bay of Silence and Porto Pidocchio, with a day in the Cinque Terre national park
Easy
A valley rich in history, hard work and life, in a journey walking among roads and paths, light and shadows, water and biodiversity
Intermediate
Reviews
5
Trekking in Liguria
Nice ride, well calibrated, a mix of nature and landscapes but also history and urban centers. Lovely places and good food, enjoyed the ultimate relaxation directly on the beach or on the promenade while drinking something fresh. There is already a desire to return. A little more attention only in the choice of the hotel. Happy holidays to all (automatic translation by Google)