Weekend for a group of friends
A weekend with friends: without worries, and without risking your driving license! 
Piedmont is the homeland of truffles , of mushrooms and of good wine: we will take you to taste the best Barbera, the Barolo, a special grappa that you haven't tasted before, or, for dessert lovers, hazelnut cakes and the most delicious nougat.
We will recommend restaurants or the perfect inns for your taste, or we will organize a picnic with a view on the hills.
We have Wi-Fi on our minibus, and you will get to choose the music.
In short, we'll take care of you, and you will enjoy your time together!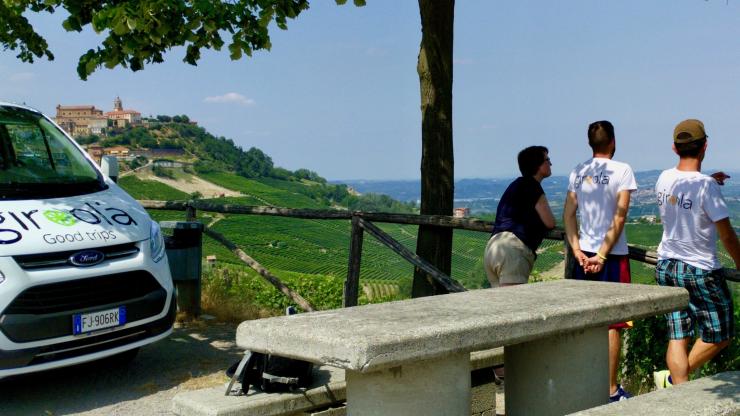 Mountain biking with kids
Two friends with their children, or an entire family: why not take a mountain bike holiday, with some indulgence of food and wine for the adults?
We can organize an easy round trip for all the family, with an e-bike as well, and have you try the "pump", the exceptional track in Villareggia for all family fun. Or we can arrange a course with a mountain bike instructor for the kids while the adults with Marco face a more challenging path, or they taste the Erbaluce wine in a sumptuous "merenda sinoira", a cross between afternoon tea and dinner. Or the adults can hone their skills as well with an instructor.
We can stay around our glacial hill paths, or have every day a new destination, allowing you to try out other areas (Orta Lake, Langhe, or the Aosta Valley).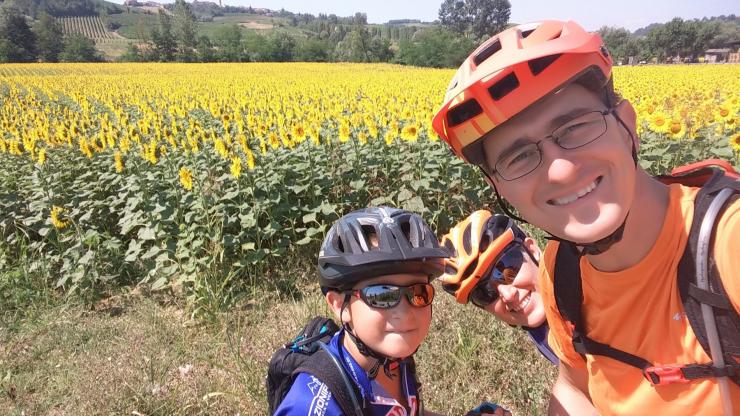 Day trip for people living in Piedmont
If like us you live in Piedmont but you have never truly visited the Langhe or Monferrato, or you have never been in Castelmagno, or the Roman ruins in Susa, or it's been ages since you went to the Sacra di San Michele Abbey or to the Orta Lake, you could organize with your friends a day trip to rediscover this region.
We will take care of tickets, guided tours on site if you wish, meals and transportation, and you enjoy our beautiful region as tourists.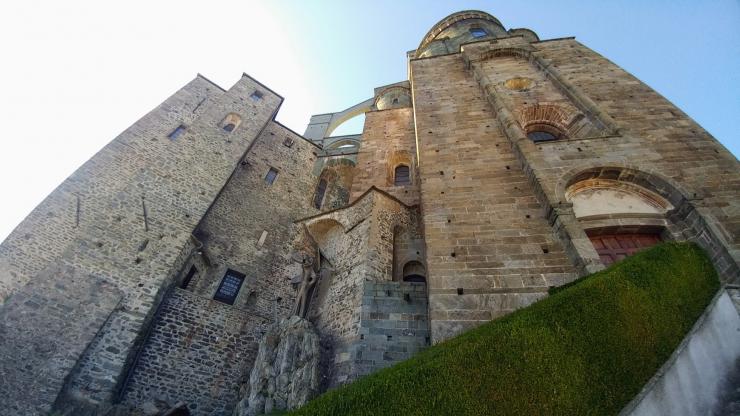 A trip for the sporty
For a group of sporty people we can organize mountain biking days that are always special: our trails on the ancient glacier, Valsessera and Mottarone, the Aosta, Maira and Valusa valleys.
We can add more activities like the "Metal Cable Flying" in Frassineto or the longest tibetan bridge in the world in Cesana. 
Let's talk about it, we have plenty of ideas!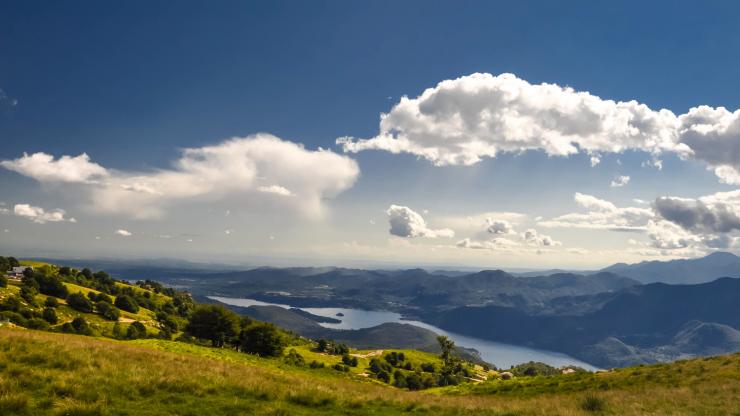 Holidays for groups of women
We love "just for girls" trips, the most famous trip we organise is by motorcycle!
And if you are not into motorcycles we have plenty of ideas for groups of girls of all age: for example a sporty day on an e-bike, ending in a spa to relax, then going out all together to chat until late. the day after, a minibus tour to a remote village to taste goat cheese and wines, then a swim in a pool with beautiful vistas overlooking the hills.
For you chatting and music (our minibus has wi-fi and a Spotify account to listen to your favorite songs) without worries and with some surprises (Alessandro always carries on the bus all you need for a panoramic aperitivo) and we will take care of the rest.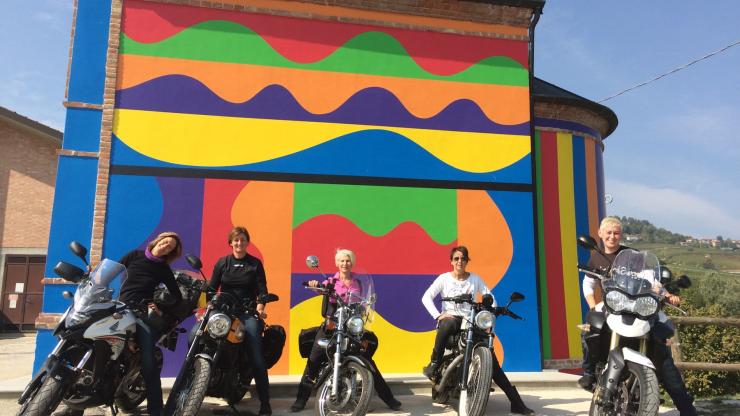 For over 60: a real, comfortable and thrilling trip
At 20 you backpacked, at 30 you were travelling by motorcycle, at 40 by caravan with the family, at 50 you started having romantic getaways again.
And you you still want to have a real trip, you hate tourist buses and big groups, you know how to travel and find your own way but the idea of having to organize everything yourself, renting a car, catching trains and looking up addresses is turning you off.
And so, here we are.
We will listen to what you like and your ideas, and we will propose the perfect trip, tailored just for you.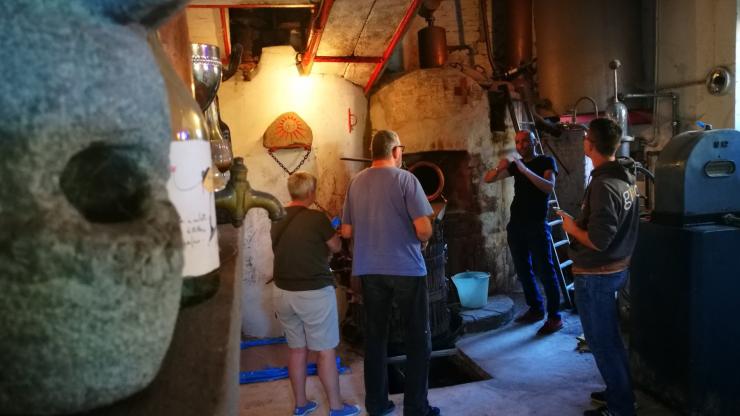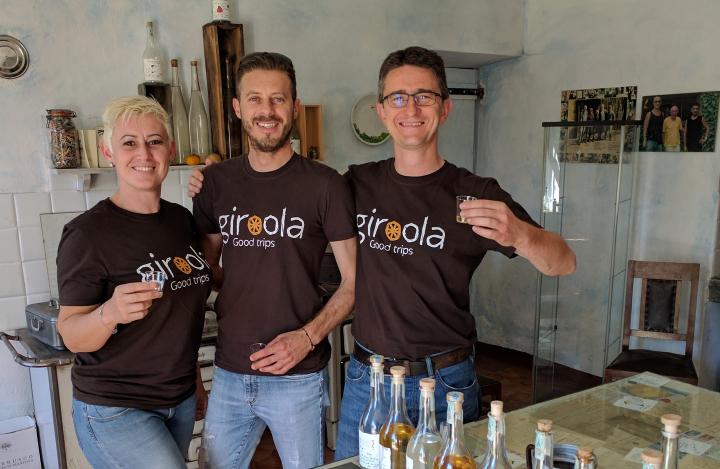 We would continue with examples forever! If you are in the area, you can check out our Canavese area proposals, and if you want to organise a company meeting, a team building event or an incentive trip here's the page.
If you have any idea for a trip, or if you are looking for one, we are here for you!
The first step is to contact Paola:
by email via her address   [email protected]
by chat on this same page (the speech bubble on a green background on the bottom right corner)
via phone, or whatsapp: + 39 370 350 63 33
We are looking forward to take you "in giroola" with us!