Una giornata in e-bike sull'Anfiteatro Morenico d'Ivrea da Villareggia al Castello di Masino
Tour Per Tutti - Un'avventura in mountain bike elettrica sui sentieri delle nostre colline del Canavese, tra chiesette di collina e panorami suggestivi e sorprendenti
Quando si dice 'andare in girula'... L'idea è semplicissima: una giornata intera, 8 bici elettriche, i sentieri delle nostre colline, l'Anfiteatro Morenico di Ivrea con i suoi sorprendenti panorami, le antiche chiesette, il Castello di Masino, luoghi incredibilmente belli e poco conosciuti da esplorare in compagnia delle nostre guide Cicloturistiche, che qui sono a casa.
Un po' di bosco, un po' di sterrato, un po' di strade asfaltate, salite e discese, il tutto reso più facile e divertente dalle e-bike, le mountain bike elettriche a pedalata assistita che ti danno una mano quando ti serve, e ti fanno quasi sentire come Pantani!
Faremo un giro con partenza e arrivo a Villareggia, la casa di Giroola. E, nel pieno rispetto delle nostre tradizioni piemontesi, ad un certo punto 'metteremo le gambe sotto la tavola' per un pranzo leggero (ma non troppo, tanto abbiamo le ebike!)
E per chi arriva a fine giro, merenda alla Cascina Amorosa, il nostro quartier generale.
Lunghezza: 45 km
Dislivello positivo: 800m
Per questo viaggio potete utilizzare una mountain bike elettrica front suspended. È possibile noleggiarla da noi, al costo supplementare di 40 euro per tutta la giornata, compreso il casco.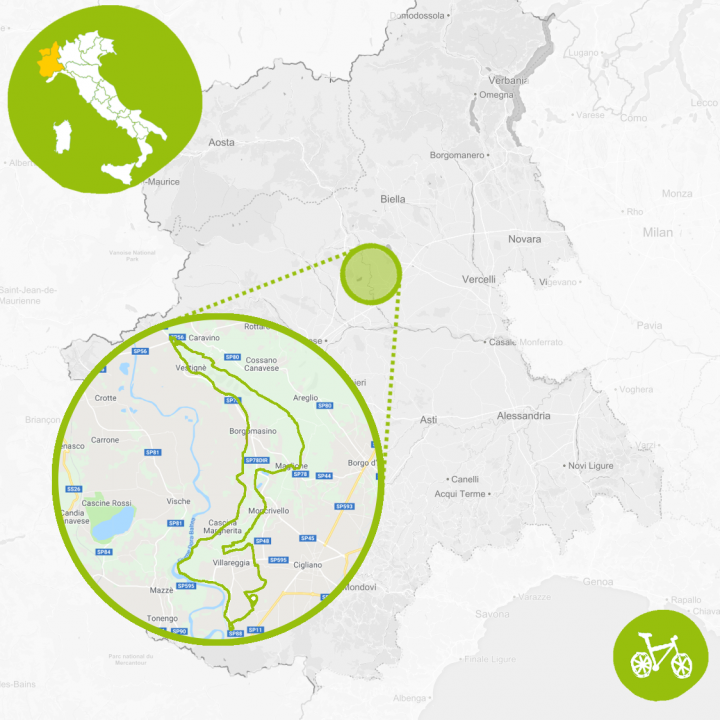 difficulty level:

Medio Facile

Giro fisicamente non impegnativo  - le e-bike aiutano parecchio in questo senso :)  - con alcuni tratti su terreno sconnesso, sia in salita che in discesa (sterrati e sentieri, non devi aver paura di fare una discesina su ghiaia, o radici o con qualche pietra che si muove)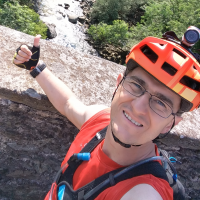 Marco
Mago dei numeri, sportivo da sempre, Marco ha deciso che la vita da dirigente d'azienda non faceva per lui, e ha deciso di andare in girula pedalando sui sentieri del Piemonte. 
Viaggiatore esperto anche in moto, è stato quasi ovunque in Europa negli ultimi 20 anni, ascolta musica heavymetal e mangia marmellate e nutella direttamente dal vasetto col cucchiai(n)o.
Vive in una cascina in campagna e nei prossimi anni vorrebbe attraversare l'America in moto, imparare ad impennare (bene) con la mtb e risolvere il cubo di rubik in meno di 1minuto
Mai senza: Nutella e cucchiaino
Citazione preferita: "Potrebbe essere peggio... Potrebbe piovere!"
This is one of our EASY tours.
We will be riding secondary roads, alternating paved stretches and unpaved sections that might include roots or stones.
This is a real bike ride, a day of outdoor sports, which is why it's important to be fit for it. 
We recommend wearing padded cycling shorts as you will be riding for around 4 hours. If you are a frequent rider, remember to bring them with you. If you instead have never used them, re recommend getting a pair. Padded shorts are the biker's best friend (and also of the eBiker), because the legs will hold up well with the electric bike, but a bad "lower back" can really ruin a good day.
In all our eBike tours it is essential to wear a helmet, if you don't have one we can lend it to you. If you rent one of our eBikes, the helmet is included in the price.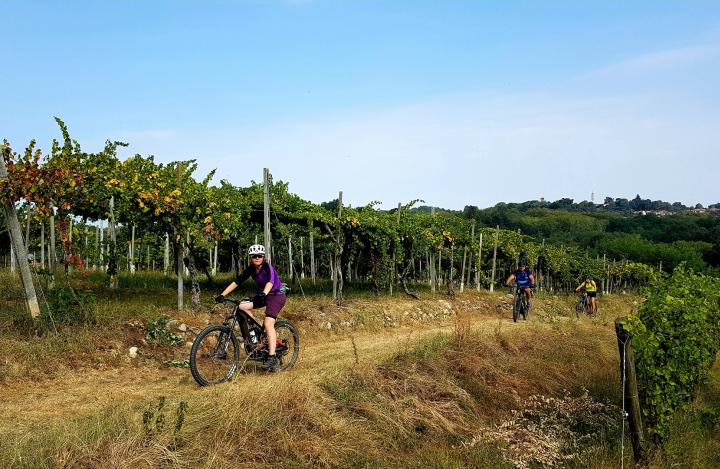 We strongly recommend wearing padded cycling shorts as you will be riding for around 4 hours. If you are a frequent rider, remember to bring them with you. If you instead have never used them, re recommend getting a pair.

If you don't own any specific bike / mountain biking clothing, the advice for outdoor days is always: dress "like an onion" (in layers)!

We advise you to wear comfortable clothing, taking into account that, along unpaved stretches, we could encounter some puddles or a bit of mud (and the mountain bikes do not have fenders). So, to sum up:
the helmet (if you have one, otherwise we will provide you with one of ours)
t-shirt
sneakers or hiking shoes
a backpack with a long-sleeved shirt and a rainproof jacket or windproof inside (maybe you won't need them but...!)
a water bottle for water / mineral salts
sunglasses
sunscreen
We recommend arriving already "dressed for biking", so as to be ready to go. In addition, a tip from our Ale is to carry a spare t-shirt in your backpack, to wear for lunch and / or at the end of the ride when you get back to the car.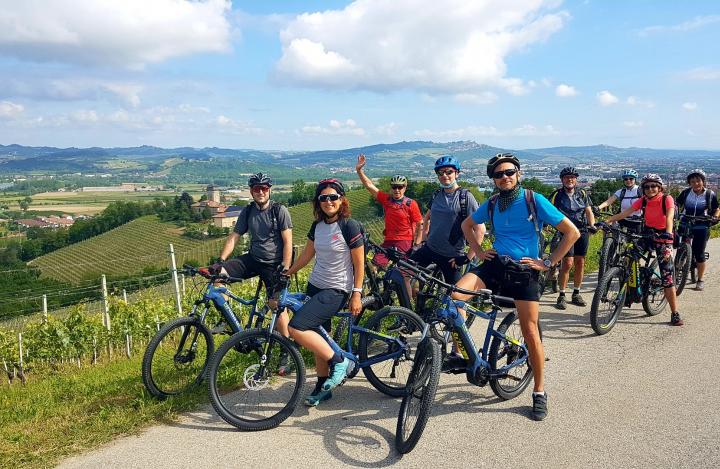 If the weather makes the tour impossible, we will contact you the day before (when the weather forecast becomes more reliable) to reschedule the day or for a reimbursement.
The price of the package, 79euros per person, includes:
Accompaniment by a bicycle tour guide authorized by the Piedmont Region for cycling / e-bike excursions for the whole day
lunch (two courses, water and coffee)
if you wish to use one of our eBikes for the ride, the cost of the rental for the whole day, including the helmet, is 40 euros, and can be added during the booking.
You can sign up directly in this page or by contacting us directly by e-mail at ([email protected])  or by phone or Whatsapp at the number 370 3506333
You can chat straight with us clicking here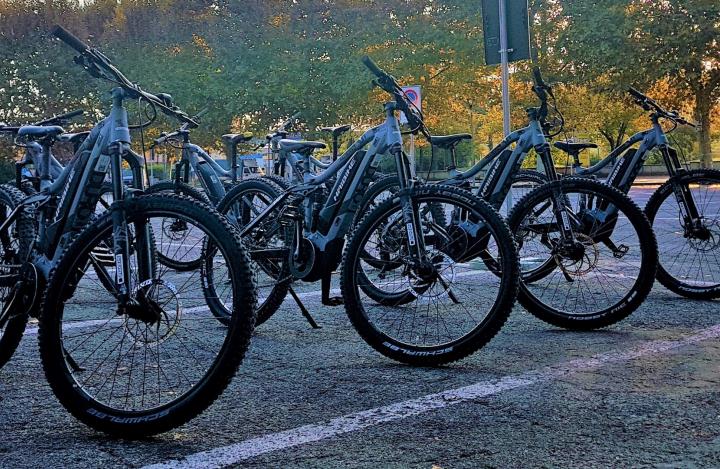 We do not own the eBikes ourselves: we work with the best rental companies in Piedmont that, depending on the type of tour we are going to do, provide us with eBikes that are clean, in excellent working order, medium-high range (like Cube, Focus, Haibike, Rossignol, Thok, all equipped with Bosch - Shimano - Yamaha motors) and, importantly, of the correct size.
An electric mountain bike, or e-bike, is a way to deal with paths which normally would not be doable by everyone, and enjoy the road, the landscape and nature.
These are are also called "pedal assist" bikes, because the motor will help the rider in moving, but the rider still has to pedal.
So, by riding an e-bike, someone who is trained can get even further, and beginners can have fun without feeling exhausted straight away.
To understand and get a feel for how much fun and easy to use of these bicycles are, the only solution is to come and try!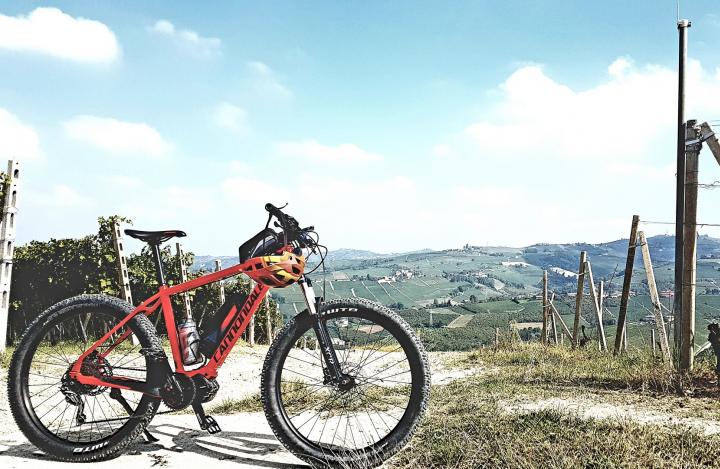 All our tours are directly made by us, Giroola Srl, via Amorosa 3, 10030 Villareggia (TO) (P.iva 11671600010, Scia 19022017-1520 Suap 9007)
During the tour you'll be covered by our Civil Responsibility Assurance (Reale Mutua Assicurazioni, via Corte d'Appello 1, 10122 Torino, nr.2007/03/2276452).  
We adhere to the Guarantee Fund (art.50 Dlgs 23.05.2011 n.79) which can be used by all travellers provided they have a contract in case of bankruptcy or insolvency for the refunding of the price paid. (Fondo Garanzia Viaggi Srl, via Nazionale 60, 00184 Roma, certificate n. A/146.1485/5/2017).
Booking Policy, from the General Terms and Condition for the Sale of Tour Packages:
3) RESERVATIONS
Acceptance of reservations by Giroola Srl is subject to availability. Reservations will be considered final following confirmation by Giroola Srl,  even via e-mail or fax, to the client.
Indications relative to the tour package not contained in the contract documents, brochures or other forms of written communication, will be supplied in time by Giroola Srl prior to the initial starting date in compliance with its duties as envisaged by Legislative . decree n. 79/2011.
4) PAYMENT
Upon booking, full payment is required.
5) TRANSFER OF CONTRACT
The client renouncing the contract may be substituted by another person provided that:
a) Giroola Srl be given written notice at least 4 weekdays prior to the date of departure, together with the necessary personal data of the transferee;
b) The transferee be able to satisfy all the conditions for the fruition of the service ( ex article 10 of Legislative decree n.111/95) and in particular the requisites relative to passports, visas, health certificates;
c) The transferee refund Giroola Srl for all expenses incurred for the transfer of the contract for the sum specified before the transfer.
Moreover, the transferor and the transferee are both accountable for the payment in full of the tour package price as well as for the sum as per item (c) of the present article.
As far as certain types of services are concerned, third party suppliers have the right to refuse the substitution of the transferee, even if effected within the time limit specified as per item (a) of the present article. Giroola Srl will therefore not be held responsible for the eventual non-acceptance of the substitution on behalf of third parties. This non-acceptance shall be notified in good time by Giroola Srl to the parties involved before departure.
6) WITHDRAWAL
In the event of withdrawing from the tour package contract, the client is, in any case, liable for the payment of the tour package price. If withdrawal takes place for reasons beyond those envisaged in article 7 of the present General Terms, the client shall pay, in compliance with ex article 1373, paragraph III, Italian Civil Code, cancellation penalties as specified below:
10% of the tour package price within 30 days prior to departure
30% of the tour package price from 29 to 18 days prior to departure
50% of the tour package price from 17 to 10 days prior to departure
75% of the tour package price from 9 to 3 weekdays prior to departure
100% of the tour package price beyond these terms.
7) WITHDRAWAL OF CLIENT WITHOUT PENALTY
The client may withdraw from the contract, without incurring any penalty, in the following circumstances:
a significant change of one or more elements of the contract which can be objectively considered as fundamental for the fruition of the tour package in its entirety and proposed by Giroola Srl.
after the conclusion of the contract itself but prior to departure and not accepted by the client.
In the abovementioned circumstances, the client is entitled to the following options:
the fruition of an alternative tour package, with no increase in price or with the restitution of the excess in price, if the second tour package costs less than the first;
the restitution of any sum corresponded as partial payment. Said restitution must be made within seven weekdays from receiving the request for reimbursement.
The client must communicate the decision (to accept the change or to withdraw) within two weekdays from receiving notice of the price increase or change. In the absence of specific notice within the said term, the proposal made by Giroola Srl will be considered accepted. The client who decides to withdraw from the contract before departure for circumstances beyond those listed above shall pay, after deducting the account paid as per article 4, the penalty indicated in article 6.
8) TOUR VARIATIONS
Variations to the tour, requested by the client, after the confirmation of booking, could involve processing expenses for Giroola Srl and at times penalties charged by suppliers. If so, the customer will be charged. Partial withdrawal of some of the travellers under the same contract and the resulting decrease in number of tour members is to be considered partial cancellation and is consequently regulated as stated in article 6.
Guarda tutti i nostri tour sportivi in Ebike