3 Giorni di camminate sulle montagne occitane, il tour delle basse Valli Maira, Varaita e Po
Tour Facile - Il viaggio in cui scoprire insieme le grandi bellezze ed i panorami della vera montagna, mai oltre i 2000 metri
Andare in montagna per molti significa cercare le alte valli, le vette sopra i 2.000 o 3.000 metri. Con questo tour scopriremo che anche le altitudini al di sotto dei 2.000 possono regalare gite e paesaggi indimenticabili, passando in ambienti meno austeri e più accoglienti come boschi di betulle fatati, prati di montagna e scorci sulla pianura padana di una bellezza incomparabile.
Tre giorni di escursioni facili alla scoperta di montagne delle basse Valli Maira, Varaita e Po, per godersi la montagna autentica senza fretta e senza folla.
Cammineremo sul Mombracco, noto per il suo legame con Leonardo da Vinci, ammireremo gli straordinari Ciciu del Villar, colonne dalla caratteristica forma di fungo, ammireremo i paesaggi del Monte San Bernardo e del Colle Liretta.             
Un piccolo gruppo di 8 viaggiatori, una guida escursionistica ambientale esperta, la montagna da esplorare e tanto da scoprire: ecco un viaggio interessante e rilassante da fare insieme a noi!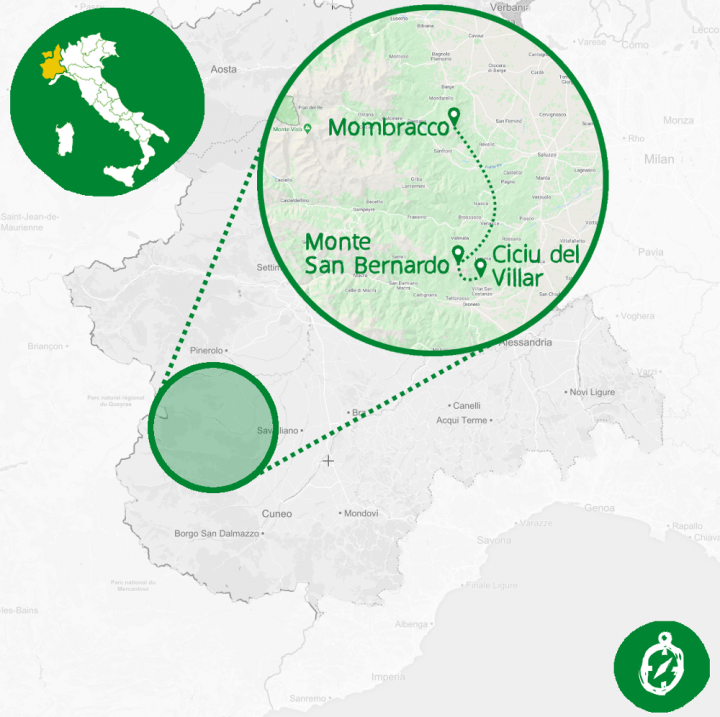 difficulty level:

Facile

Itinerari relativamente brevi su sentieri e strade bianche, con tratti in salita da percorrere con le giuste pause e senza fretta! Ideali per i neo-escursionisti e per chi vuole riprendere a camminare su percorsi sterrati!
Grande appassionato di viaggi in giro per il mondo, e di montagna, Luca è una Guida Escursionistica Ambientale e Accompagnatore Turistico (e anche Guida Rafting, se non bastasse!) che ama organizzare sia trekking classici, specialmente nelle valli spettacolari della provincia di Cuneo che per lui sono casa, sia viaggi in cui la camminata è un modo di esplorare nuovi territori e culture, come fa ad esempio nei suoi bellissimi nuovi tour in Francia per Giroola del 2022. Molto preparato e competente, Luca è una persona curiosa e positiva, a cui brillano gli occhi mentre ti racconta dei posti che gli piacciono, capace di scovare angoli meno conosciuti e bellissimi, ed attento anche alle scoperte gastronomiche. A noi di Giroola piace il suo entusiasmo, la capacità di ascoltare e di proporre idee ed i suoi itinerari originali, tanto che dalla scorsa stagione abbiamo deciso, istintivamente, di farlo diventare uno di noi (ed i nostri viaggiatori hanno apprezzato!).
Dicono di lui i nostri viaggiatori:
Grazie a Luca che ci ha guidati alla scoperta di un ambiente naturale affascinante e solitario e che ha saputo trasmetterci l'amore per la sua terra. (Linda, viaggiatrice nel tour delle Basse Valli Po, Valle Maira e Val Varaita)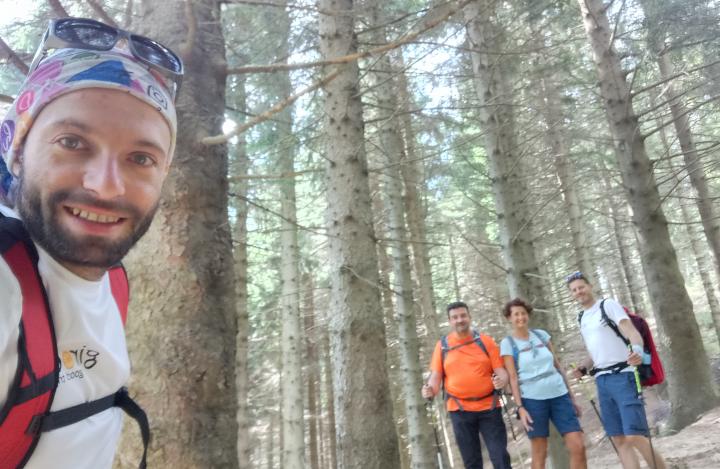 Classification of difficulty levels for trekking and hiking itineraries:
Easy (Tourist): relatively short itineraries, on wide paths and flat dirt roads or with slight slopes; lasting 2-3 hours of walking and with a positive vertical gain of maximum 200-250 meters.
Easy (Tourist): relatively short itineraries, on wide paths and flat dirt roads or with slight slopes; lasting 3-4 hours of walking and with a positive vertical gain of maximum 450-550 meters.
Intermediate (excursion): itineraries on paths of various kinds, sometimes with marked slopes; lasting 5-6 hours of walking and with a positive difference in height of maximum 900-1000 meters.
Challenging (Expert Hiking): itineraries that present some technical difficulties, such as rocky ground, slight snowy slopes, exposed sections and in some cases single rocky sections of easy climbing (I and II degree) that require the use of hands; a good rhythm is required and physical preparation must be adequate for a day of continuous walking in the mountains; lasting 8-9 hours of walking and with a positive difference in altitude from 1000 meters upwards.
All our tours are suitable for all ages (let's say from the age of 14 upwards) - the best thing if you have a doubt about the technical difficulties or the length of the route, you can call us and speak directly with your guide who can advise you in the best way based on your experience and your needs.
The meeting point is in front of Torino Porta Nuova Station, in Piazza Carlo Felice Square under the arcades in front of the Decathlon store (click here for the Google Maps coordinates).
If you travel by train or plane, you can take the opportunity to arrive the day before and visit the city, we are at your disposal to add one or more nights to your trip.
If you arrive by car, we can recommend an alternative destination for the night before, and agree on a different meeting point.
For help organising the evening before the start of the trip, o the evening afterwads and for any questions or tips our Paola is happy to help you on the phone or WhatsApp ( +39 370 3506333 ), via email ([email protected]) or directly by chat by clicking here.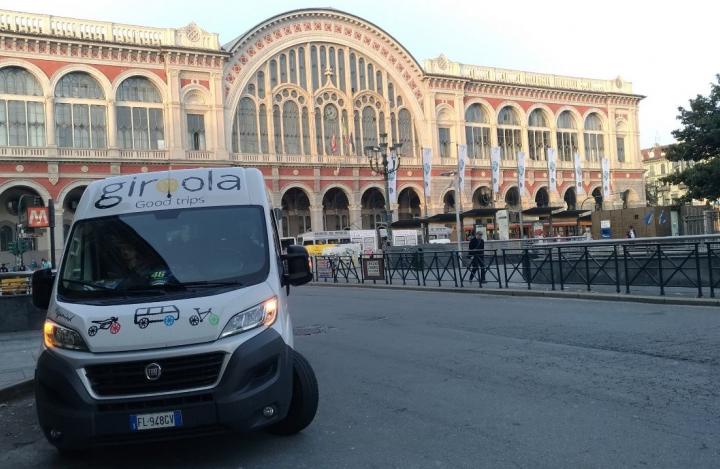 CLOTHING We recommend to dress in layers, using breathable garments, but without forgetting a fleece and a windproof and rainproof jacket. Regarding the trousers it is better to opt for a pair that would be not too heavy, able to dry quickly and especially with elastic parts to facilitate movement and be comfortable.
FOOTWEAR: Boots are good, better if not too heavy given the season, also low shoes as long as they are hiking shoes, suitable for walking on trails and dirt paths.
BACKPACK: Since we will start from a base each day, it is sufficient to have a backpack of 20-30 liters for day trips, with a cover in case of rain (you never know!). 
TREKKING STICKS:  ideal both uphill and downhill to reduce the effort of leg muscles and to reduce the load on the joints. 
DO NOT FORGET: A pair of sunglasses, sunscreen, a water bottle of at least half a liter as well as a cap and a band to protect the forehead and ears from the wind are essential.
If you need more information or if in doubt please write to us: our hiking guide Marco B. will be happy to give you all the necessary information
For further information you can read the article by Marco B. on our blog: Which clothing to choose for a hike? 4 recommendations
In our hiking tours you will find solo travelers, couples, or pairs of friends, and in a small group of eight it's easy to become friends straight away. This tour is perfect for those that traveling alone but don't want to be on their own for the whole trip. You're independent and you can choose if and when to share your free time with the group.
Our travelers are people who know how to travel, in fact they arrive independently to the place of the appointment, mainly from all over Italy (but not only) and who choose to take a trip with us to learn differently about places, people, flavors and traditions. We are proud to say that our travelers are the best part of our trips!
Solo travellers are always welcome in our tours, and if you feel like sharing a double of triple room with other members of the group we will send you an e-mail after your reservation and you will be able to tell us about your preferences (for example, if you are a girl and you would like to share a room with girls only etc). You will not pay any surcharge.
If you prefer, you can book a single room for a fee.
If there are no other solo travellers in your tour or if there is no opportunity to satisfy your preferences, your single room will be offered by us at no extra charge.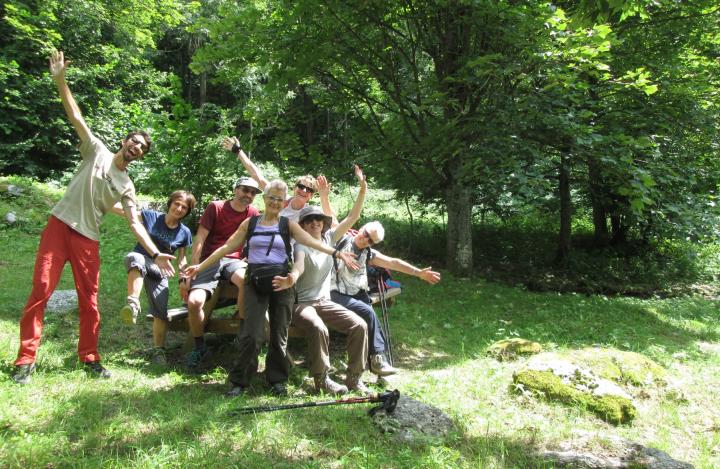 Before each trip we always ask our travelers about any allergies, intolerances or special food needs, and we prepare in advance with restaurants and hotels to make everyone's experience the best possible.
We also pay attention to the needs of vegetarians and vegans, ensuring that suitable alternatives are always provided.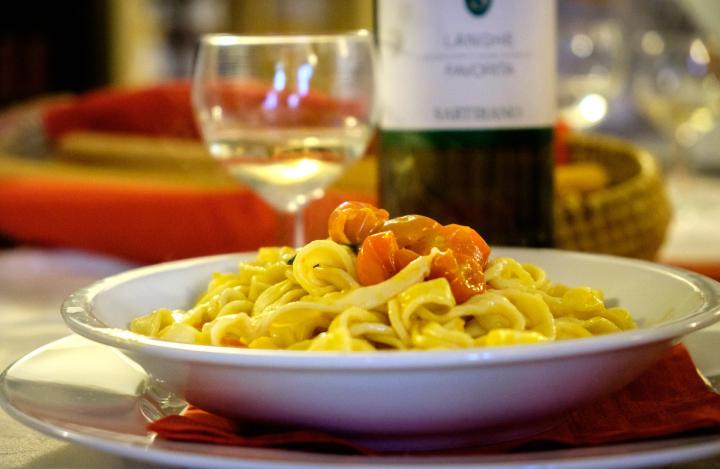 On our hiking trips though, we gladly accept small dogs, one for each trip, because outdoor activities and the appropriate choice of dog friendly hotels and restaurants allow us to welcome them without ruining the holiday for those who love them less than we do.
The participation of the dog implies:
getting a single room
a hotel fee for room cleaning
a cleaning fee for the minibus
To make sure you can take your dog with you on this trip, call us or write to us to make sure that there is still the possibility of transporting it on our minibus (you can contact Paola at 370 3506333, via email [email protected], or directly by chat here).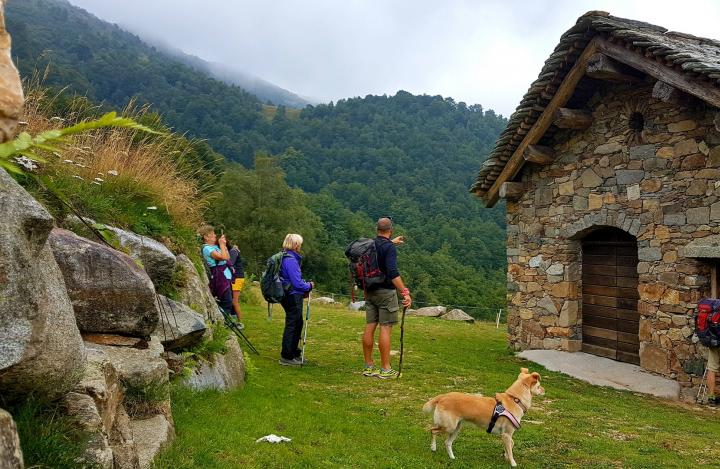 All our tours are directly made by us, Giroola Srl, via Amorosa 3, 10030 Villareggia (TO) (P.iva 11671600010, Scia 19022017-1520 Suap 9007)
During the tour you'll be covered by our Civil Responsibility Assurance (Reale Mutua Assicurazioni, via Corte d'Appello 1, 10122 Torino, nr.2007/03/2276452).  
We adhere to the Guarantee Fund (art.50 Dlgs 23.05.2011 n.79) which can be used by all travellers provided they have a contract in case of bankruptcy or insolvency for the refunding of the price paid. (Fondo Garanzia Viaggi Srl, via Nazionale 60, 00184 Roma, certificate n. A/146.1485/5/2017).
Booking Policy, from the General Terms and Condition for the Sale of Tour Packages:
3) RESERVATIONS
Acceptance of reservations by Giroola Srl is subject to availability. Reservations will be considered final following confirmation by Giroola Srl,  even via e-mail or fax, to the client.
Indications relative to the tour package not contained in the contract documents, brochures or other forms of written communication, will be supplied in time by Giroola Srl prior to the initial starting date in compliance with its duties as envisaged by Legislative . decree n. 79/2011.
4) PAYMENT
Upon booking, a registration fee and a deposit of 25% of the total amount is required. Full payment is due 30 days prior to departure. For reservations made within 30 days of departure, full payment is due upon booking. Lack of payment of the abovementioned sums on the dates established constitutes grounds for cancellation of reservations such as to determine, on the part of Giroola Srl, the right to terminate the contract.
5) TRANSFER OF CONTRACT
The client renouncing the contract may be substituted by another person provided that:
a) Giroola Srl be given written notice at least 4 weekdays prior to the date of departure, together with the necessary personal data of the transferee;
b) The transferee be able to satisfy all the conditions for the fruition of the service ( ex article 10 of Legislative decree n.111/95) and in particular the requisites relative to passports, visas, health certificates;
c) The transferee refund Giroola Srl for all expenses incurred for the transfer of the contract for the sum specified before the transfer.
Moreover, the transferor and the transferee are both accountable for the payment in full of the tour package price as well as for the sum as per item (c) of the present article.
As far as certain types of services are concerned, third party suppliers have the right to refuse the substitution of the transferee, even if effected within the time limit specified as per item (a) of the present article. Giroola Srl will therefore not be held responsible for the eventual non-acceptance of the substitution on behalf of third parties. This non-acceptance shall be notified in good time by Giroola Srl to the parties involved before departure.
6) WITHDRAWAL
In the event of withdrawing from the tour package contract, the client is, in any case, liable for the payment of the tour package price. If withdrawal takes place for reasons beyond those envisaged in article 7 of the present General Terms, the client shall pay, in compliance with ex article 1373, paragraph III, Italian Civil Code, cancellation penalties as specified below:
10% of the tour package price within 30 days prior to departure
30% of the tour package price from 29 to 18 days prior to departure
50% of the tour package price from 17 to 10 days prior to departure
75% of the tour package price from 9 to 3 weekdays prior to departure
100% of the tour package price beyond these terms.
7) WITHDRAWAL OF CLIENT WITHOUT PENALTY
The client may withdraw from the contract, without incurring any penalty, in the following circumstances:
a significant change of one or more elements of the contract which can be objectively considered as fundamental for the fruition of the tour package in its entirety and proposed by Giroola Srl.
after the conclusion of the contract itself but prior to departure and not accepted by the client.
In the abovementioned circumstances, the client is entitled to the following options:
the fruition of an alternative tour package, with no increase in price or with the restitution of the excess in price, if the second tour package costs less than the first;
the restitution of any sum corresponded as partial payment. Said restitution must be made within seven weekdays from receiving the request for reimbursement.
The client must communicate the decision (to accept the change or to withdraw) within two weekdays from receiving notice of the price increase or change. In the absence of specific notice within the said term, the proposal made by Giroola Srl will be considered accepted. The client who decides to withdraw from the contract before departure for circumstances beyond those listed above shall pay, after deducting the account paid as per article 4, the penalty indicated in article 6.
8) TOUR VARIATIONS
Variations to the tour, requested by the client, after the confirmation of booking, could involve processing expenses for Giroola Srl and at times penalties charged by suppliers. If so, the customer will be charged. Partial withdrawal of some of the travellers under the same contract and the resulting decrease in number of tour members is to be considered partial cancellation and is consequently regulated as stated in article 6.
As specified in our General Conditions of Sale of tourist packages, when you travel with Giroola you are covered by our Civil Liability Insurance. For all that could happen and that was due to our negligence or error, we have signed a policy (Reale Mutua Assicurazioni, nr.2007 / 03/2276452).
There are other insurance policies that we recommend and for which we have chosen to work with Allianz Global Assistance, whose Globy range seems to us to be the most suitable for our travelers:
TRAVEL CANCELLATION - Our 8-person trips are often full months before the date of travel, and even if our cancellation policy is actually much more flexible than expressed in our Booking Policy (our travelers can attest to this, we are very available to move the trip in case of unexpected even the last minute), where other facilities are involved (hotels, rentals, etc) some expenses are not really refundable, and therefore a good trip cancellation insurance becomes a valuable ally. 
HEALTH and ASSISTANCE
We at Giroola are an agency of the Globy network of Allianz Global Assistance, and we can therefore provide you with all the information, make estimates and issue the policies directly with the booking.
For any information our Paola is at your disposal at the phone number +39 370 3506333, at the address [email protected] or in the chat directly on this page.
What's included
Meals
2 colazioni
3 pranzi al sacco
2 cene al ristorante
Transport
Trasferimenti in minibus sui sentieri ogni giorno come da programma sintetico
E' possibile, a titolo gratuito, usufruire del trasferimento da e per Torino in minibus con la nostra guida o trovare un punto intermedio di appuntamento (vedere la sezione Orari e Punto di Ritrovo)
Accommodation
2 notti in B&B o Hotel, in camera doppia con colazione - supplemento camera singola: 60 euro totali
Activities
3 giorni di accompagnamento sui sentieri da parte di una Guida Escursionistica Ambientale
Ingresso al parco "Ciciu del Villar"