Tour di 6 Giorni in minibus, in ebike e sugli sci: le Langhe, le Alpi e il mare
3 vacanze in una: sport, gastronomia e cultura per veri viaggiatori, dalle colline di Alba alle Montagne di Limone Piemonte, fino alle coste di Sanremo.
Un viaggio perfetto per l'inverno, per coniugare il divertimento sulla neve, con l'aria frizzante che risveglia la voglia di movimento e le montagne bellissime a fare da cornice, il calore dei piatti della gastronomia piemontese famosa nel mondo, e i profumi dei vini pregiati, e la pace della riviera ligure nei mesi lontani dalla folla, cavalcando una ebike tra costa e entroterra.
Ecco il menu di questo viaggio di 6 giorni spettacolare, dove un unico tour leader ci guiderà attraverso le diverse esperienze: 2 giorni di paesaggi e degustazioni nelle Langhe del Barolo e del Barbaresco, 2 giorni sulla neve nel Comprensorio di Limone Piemonte e 2 giorni sulla Riviera ligure a Sanremo in ebike.
Un viaggio per chi ama la buona tavola, e gli ottimi vini, ma anche lo sport e le attività dinamiche, e vuole un'esperienza completa, con un ottimo livello di servizio e di organizzazione, ma anche viaggiare in modo autentico, con le guide e la gente del posto, per vivere davvero al meglio questi luoghi eccezionali.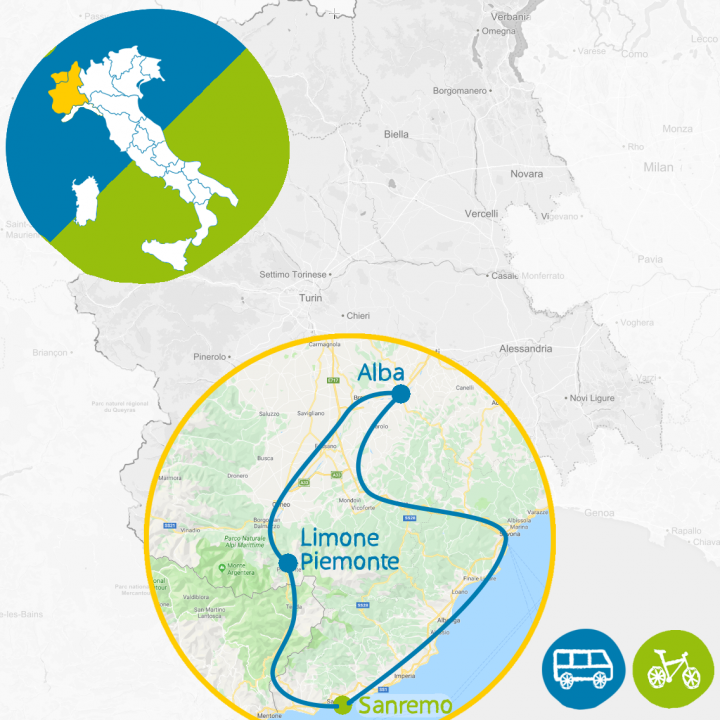 difficulty level:

Medio Facile

Giro fisicamente non impegnativo  - le e-bike aiutano parecchio in questo senso :)  - con alcuni tratti su terreno sconnesso, sia in salita che in discesa (sterrati e sentieri, non devi aver paura di fare una discesina su ghiaia, o radici o con qualche pietra che si muove)
Giorni 1-2 : Le Langhe / Il Vino / Le colline
C'è un luogo, in Piemonte, dove le colline parlano del rapporto speciale tra l'uomo e la natura, dove i paesini custodiscono i segreti del saper fare antico, che si esprime nei vini e nella gastronomia più raffinata, e comunque autentica. Sono le Langhe, le cui colline sono state inserite nel Patrimonio dell'Umanità Unesco. E' qui che inizieremo il nostro viaggio.
Sul nostro minibus accogliente partiremo da Alba per visitare i luoghi mitici dei grandi vini, cominciando da Monforte, un vero tesoro di queste colline, per poi passare al Castello di Grinzane Cavour, a La Morra, con il suo maestoso Cedro del Libano e la Cappella colorata. 
Ci sposteremo poi per la serata nella zona di Barbaresco, per poi ripartire nella seconda giornata verso altre colline, altre meraviglie, e concederci degustazioni di vini pregiati a Treiso e nel meraviglioso borgo di Neive.
Percorreremo poi le stradine dell'Alta Langa per spostarci verso il cuneese e raggiungere poi Limone Piemonte, dove trascorreremo la notte per prepararci alla seconda parte di questo viaggio straordinario.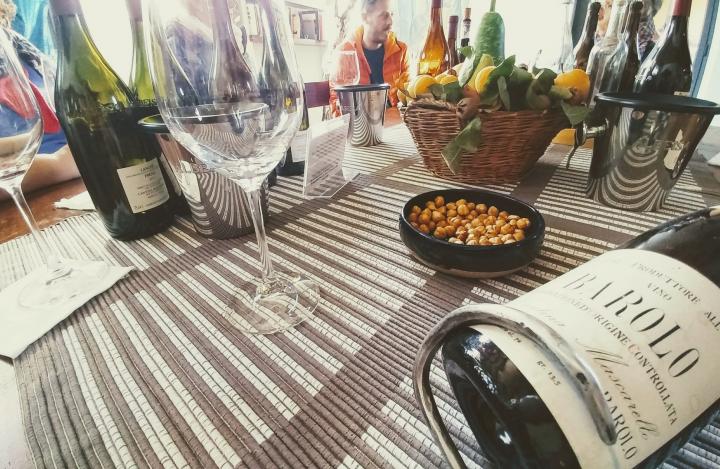 Giorni 3-4 : La Montagna / La Neve / gli Sci
La parte centrale di questa settimana sarà interamente dedicata alla montagna: grazie allo Skipass incluso nel pacchetto trascorreremo 2 giornate intere sulle piste del comprensorio di Limone Piemonte. 
Due giorni di sport e di paesaggi innevati, un modo per staccare la spina e divertirsi senza pensieri.
Alla fine della seconda giornata ci trasferiremo a Sanremo per continuare l'avventura.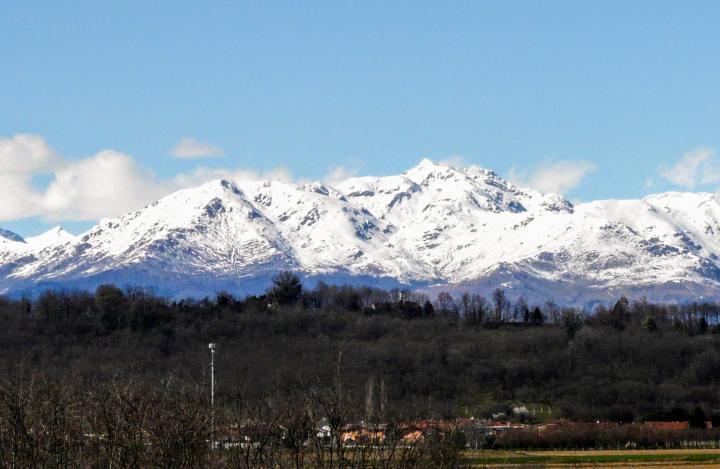 Giorni 5-6 : Il Mare / Il Sole / La eBike / Sanremo
Il mare della Liguria regala giornate di sole e di caldo anche nei mesi invernali. Per questo ci godremo il clima mite pedalando con  le nostre eBike sui sentieri dell'entroterra e sulle ciclabili in riva al mare, accompagnati da una guida locale, e senza dimenticare le gustose pause pranzo.
E' un modo perfetto per concludere un viaggio rilassante e divertente!
Alla fine del Giorno 6, si può rientrare ad Alba o a Torino (aeroporto Caselle o centro).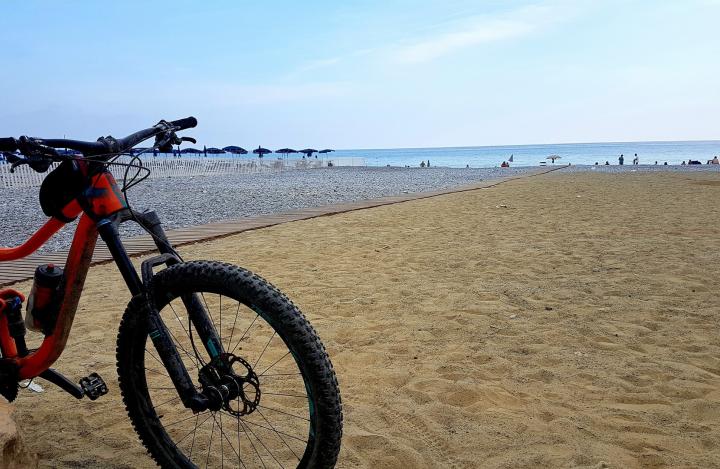 Questo viaggio ha 'una marcia in piu' rispetto alle altre esperienze di Giroola, perché unisce esperienze diverse con l'accompagnamento costante e professionale di un unico tour leader, con minibus al seguito, che si prende cura di ogni dettaglio e assicura il collegamento con gli hotel, le attività e le guide specializzate.
E' un viaggio in cui in 6 giorni passeremo dalle visite di cantine e colline delle Langhe, alle discese con gli sci nella montagna spettacolare di Limone Piemonte, per poi ritrovarci a pedalare in ebike sui sentieri e le ciclabili sul mare a Sanremo.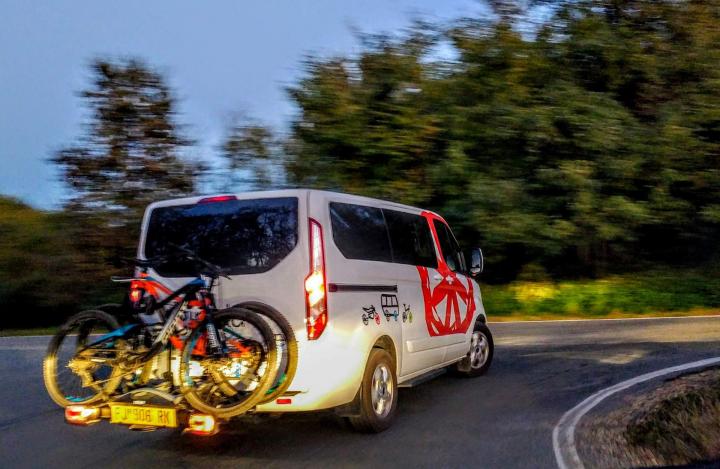 All our tours are directly made by us, Giroola Srl, via Amorosa 3, 10030 Villareggia (TO) (P.iva 11671600010, Scia 19022017-1520 Suap 9007)
During the tour you'll be covered by our Civil Responsibility Assurance (Reale Mutua Assicurazioni, via Corte d'Appello 1, 10122 Torino, nr.2007/03/2276452).  
We adhere to the Guarantee Fund (art.50 Dlgs 23.05.2011 n.79) which can be used by all travellers provided they have a contract in case of bankruptcy or insolvency for the refunding of the price paid. (Fondo Garanzia Viaggi Srl, via Nazionale 60, 00184 Roma, certificate n. A/146.1485/5/2017).
Booking Policy, from the General Terms and Condition for the Sale of Tour Packages:
3) RESERVATIONS
Acceptance of reservations by Giroola Srl is subject to availability. Reservations will be considered final following confirmation by Giroola Srl,  even via e-mail or fax, to the client.
Indications relative to the tour package not contained in the contract documents, brochures or other forms of written communication, will be supplied in time by Giroola Srl prior to the initial starting date in compliance with its duties as envisaged by Legislative . decree n. 79/2011.
4) PAYMENT
Upon booking, a registration fee and a deposit of 25% of the total amount is required. Full payment is due 30 days prior to departure. For reservations made within 30 days of departure, full payment is due upon booking. Lack of payment of the abovementioned sums on the dates established constitutes grounds for cancellation of reservations such as to determine, on the part of Giroola Srl, the right to terminate the contract.
5) TRANSFER OF CONTRACT
The client renouncing the contract may be substituted by another person provided that:
a) Giroola Srl be given written notice at least 4 weekdays prior to the date of departure, together with the necessary personal data of the transferee;
b) The transferee be able to satisfy all the conditions for the fruition of the service ( ex article 10 of Legislative decree n.111/95) and in particular the requisites relative to passports, visas, health certificates;
c) The transferee refund Giroola Srl for all expenses incurred for the transfer of the contract for the sum specified before the transfer.
Moreover, the transferor and the transferee are both accountable for the payment in full of the tour package price as well as for the sum as per item (c) of the present article.
As far as certain types of services are concerned, third party suppliers have the right to refuse the substitution of the transferee, even if effected within the time limit specified as per item (a) of the present article. Giroola Srl will therefore not be held responsible for the eventual non-acceptance of the substitution on behalf of third parties. This non-acceptance shall be notified in good time by Giroola Srl to the parties involved before departure.
6) WITHDRAWAL
In the event of withdrawing from the tour package contract, the client is, in any case, liable for the payment of the tour package price. If withdrawal takes place for reasons beyond those envisaged in article 7 of the present General Terms, the client shall pay, in compliance with ex article 1373, paragraph III, Italian Civil Code, cancellation penalties as specified below:
10% of the tour package price within 30 days prior to departure
30% of the tour package price from 29 to 18 days prior to departure
50% of the tour package price from 17 to 10 days prior to departure
75% of the tour package price from 9 to 3 weekdays prior to departure
100% of the tour package price beyond these terms.
7) WITHDRAWAL OF CLIENT WITHOUT PENALTY
The client may withdraw from the contract, without incurring any penalty, in the following circumstances:
a significant change of one or more elements of the contract which can be objectively considered as fundamental for the fruition of the tour package in its entirety and proposed by Giroola Srl.
after the conclusion of the contract itself but prior to departure and not accepted by the client.
In the abovementioned circumstances, the client is entitled to the following options:
the fruition of an alternative tour package, with no increase in price or with the restitution of the excess in price, if the second tour package costs less than the first;
the restitution of any sum corresponded as partial payment. Said restitution must be made within seven weekdays from receiving the request for reimbursement.
The client must communicate the decision (to accept the change or to withdraw) within two weekdays from receiving notice of the price increase or change. In the absence of specific notice within the said term, the proposal made by Giroola Srl will be considered accepted. The client who decides to withdraw from the contract before departure for circumstances beyond those listed above shall pay, after deducting the account paid as per article 4, the penalty indicated in article 6.
8) TOUR VARIATIONS
Variations to the tour, requested by the client, after the confirmation of booking, could involve processing expenses for Giroola Srl and at times penalties charged by suppliers. If so, the customer will be charged. Partial withdrawal of some of the travellers under the same contract and the resulting decrease in number of tour members is to be considered partial cancellation and is consequently regulated as stated in article 6.
As specified in our General Conditions of Sale of tourist packages, when you travel with Giroola you are covered by our Civil Liability Insurance. For all that could happen and that was due to our negligence or error, we have signed a policy (Reale Mutua Assicurazioni, nr.2007 / 03/2276452).
There are other insurance policies that we recommend and for which we have chosen to work with Allianz Global Assistance, whose Globy range seems to us to be the most suitable for our travelers:
TRAVEL CANCELLATION - Our 8-person trips are often full months before the date of travel, and even if our cancellation policy is actually much more flexible than expressed in our Booking Policy (our travelers can attest to this, we are very available to move the trip in case of unexpected even the last minute), where other facilities are involved (hotels, rentals, etc) some expenses are not really refundable, and therefore a good trip cancellation insurance becomes a valuable ally. 
HEALTH and ASSISTANCE
We at Giroola are an agency of the Globy network of Allianz Global Assistance, and we can therefore provide you with all the information, make estimates and issue the policies directly with the booking.
For any information our Paola is at your disposal at the phone number +39 370 3506333, at the address [email protected] or in the chat directly on this page.
What's included
Meals
6 colazioni
6 pranzi
3 cene
4 degustazioni vino / prodotti tipici
Transport
Servizio trasporto bagagli ad ogni tappa
2 Giornate di visite e degustazioni con accompagnamento in minibus nelle Langhe
Trasporto da Alba a Limone Piemonte in minibus
Trasporto da Limone Piemonte a Sanremo in minibus
Trasporto da Sanremo ad Alba in minibus(o stazione ferroviaria o altro punto di incontro)
Noleggio Sci + attrezzatura per 2 giorni
2 Skipass giornalieri per il comprensorio di Limone Piemonte
Noleggio e-bike full-suspended per 2 giorni a Sanremo
Trasporto bici / ciclista durante le tappe in caso di necessità
Accommodation
5 pernottamenti in B&B o Hotel in camera doppia (supplemento eventuale camera singola +150 Euro totali)
Activities
Assistenza Tour Leader con minibus per 6 giorni
2 giorni di visite e degustazioni in minibus nelle Langhe come da programma
2 giorni di Skipass per il Comprensorio di Limone Piemonte
Accompagnamento in bicicletta e assistenza per 2 giorni