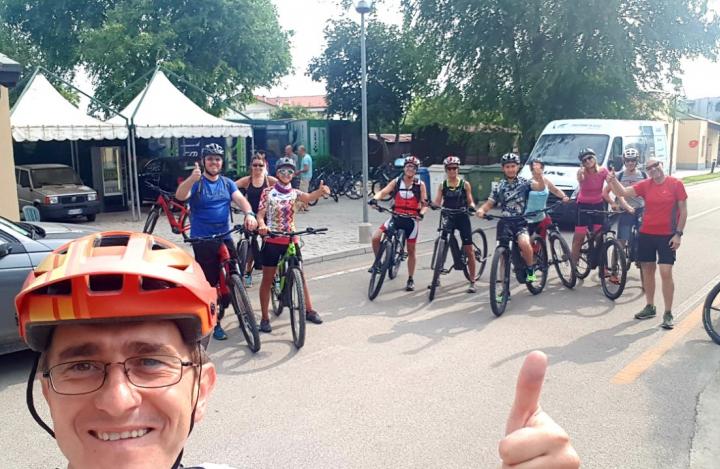 Why our tours do not have a minimum number of participants
08 Oct 20
Our scheduled tours have a maximum number of 8 participants (we have a few exceptions on motorbike or vespa tours with passengers, or on ebike days with 2 guides) but the do not have a minimum number.
No minimum number of participants
We think that if you have spotted a tour that you like, you are interested in taking part in it, so much as to book and pay a deposit, it's just not right for it to depend on others whether you make that journey or not.
Moreover, since many of our travelers come from far away, buying a train or plane ticket in advance is certainly cheaper, and you must be able to do it without fear of having to cancel everything.
Since they are meant for small groups, our trips tend to fill up rather quickly (or at least they arrive quickly at 5-6 participants, which is a good number for traveling) and we think the risk of doing the tour with only 2 or 3 travelers must be ours. 
Book early
It is difficult to predict when a trip for 8 people will fill up: travelers often look at the website for availability and wait for other reservations to 'take the plunge'. The result is that often when the first traveler has booked, in a couple of days the trip might fill up completely. This is what happened for example to at least 10 motorcyclists who wanted to come with us to our "All mountain passes tour", which had a single departure on August 13th. 
Booking early, when the trip is guaranteed anyway, is always the best thing, also because this way you help the journey to fill up better, and sooner. 
And what if we are only 2?
We honor our commitment even if the traveler is only one, especially when they come from far away and have booked trains, planes, hotels. Certainly when this happens (this has happened since the beginning only 3 times so far) there are pros and cons. On the one hand you have the guide all for yourself, a sort of private trip at a very low cost, but on the other you miss out on the company of the other travelers, and in the case of our giroolers it is a beautiful and important aspect of the journey.
So the lone traveler (when someone doesn't give up the last one, so we don't have the time to do it) we usually choose to propose if they want to do the same, and if they decide to give up we will usually pay the various cancellation penalties for hotels and tastings. 
Economically it is still a loss for us to make the trip even for only 3 or 4 travelers, but we are of the idea that a happy traveler will come back, and will talk about us to his friends, and it is certainly a very good investment. 
If you follow our travels on our social media, you will have seen that they are generally quite full, so if you want to help us work better, to fill our tours with nice people with whom to spend fun and enjoyable time, my advice is: book as soon as possible!
If you want to organize your trip, I am at your service, you can find me on the phone (+39 370 3506333), via email: [email protected] or directly by chat here on the website, clicking here.